The engineering chief of Philippine low-cost carrier Cebu Pacific Air sees little sign of improvement in the availability of aircraft spare parts.
Shevantha Weerasekera, vice president of engineering and maintenance at Cebu Pacific, says that while there has been much discussion about supply chain issues since the industry emerged from the coronavirus pandemic, there has been remarkably little action.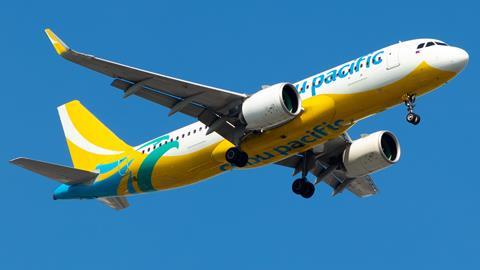 "We have been talking to OEMs throughout the year and nothing's changed, and so right now what is happening is frustration," says Weerasekera. "We keep asking when is it going to stop? When is it going to change? What are you doing about?"
The ultimate losers from the issue are the airline's passengers, who may not be able to fly where they want to go when they want to, he adds. Supply issues could also see the carrier lose slots at certain airports owing to insufficient capacity to utilize them, and even an inability meet certain government commitments.
Weerasekera made the remarks during a panel discussion at the recent MRO Asia Pacific event in Singapore.
He says that while the situation for some components has gotten better, for some it has gotten worse, specifically for propellers and fan blades. Engines and auxiliary power units also remain a big challenge, sometimes spending up to a year in a repair shop or warehouse.
He adds that OEMs need to broaden the range of companies that can provide spares or repairs.
"We could have everybody celebrating aircraft sales, but then two years down the line those aircraft are parked because of a lack of components."
Used serviceable materials (USMs) offer some relief, allowing carriers to keep flying with spare parts, but these are generally not accepted when an aircraft is returned to a lessor. To return the aircraft, an airline will eventually need to obtain a brand new part – adding to costs.
Cirium fleets data indicates that Cebu Pacific has 56 in-service aircraft with eight in storage. Airbus A320neos powered by the troubled Pratt & Whitney account for half of its fleet.
Bernd Riggers, senior vice president of SIA Engineering's component services division, offers the view that the supply chain issues facing the industry are due to structural issues, making a short-term solution unlikely.
OEMs, he says, will often have one source for a specific component. "If you have a single source and something goes wrong, it's no surprise that we end up in such a situation."
Trained personnel are also an issue. He observes that the industry lost a number of people during the pandemic and they have not returned.
"We have to attract people from certain areas that are willing to do the job, and we have to take responsibility for qualifying them so that they can make a difference in our industry, and this will take time," says Riggers.
"It takes structural changes if you want to make a difference"