Aerostructures supplier Spirit AeroSystems is searching for a new chief executive following the sudden resignation of Tom Gentile.
Spirit on 2 October said Gentile resigned his position over the weekend on 30 September. Board of directors member Patrick Shanahan has been appointed as interim CEO while the board searches for a permanent replacement.
"Pat is a seasoned executive with nearly four decades of commercial and defence aerospace leadership and senior Department of Defense experience, and he has a valuable customer perspective," says board chair Robert Johnson.
"I am confident that his leadership will ensure a smooth transition for all of our stakeholders as we look to identify a new chief executive officer," Johnson adds.
In addition to supplying Airbus and Boeing, Spirit also provides crucial components to Northrop Grumman and helicopter makers Bell and Sikorsky.
Gentile will stay on with Spirit as a consultant for three months to assist with the transition.
"With positive market trends and opportunities ahead, I am as confident as ever in the team's ability to effectively navigate a challenging macro environment and deliver on its commitments to our customers and shareholders," the outgoing executive says.
Gentile's departure follows what has been a challenging year for Spirit. The critical supplier of aerostructures to both civil and military airframers has been racked by quality control problems and labour disruptions.
In June, 6,000 machinists at Spirit's plant in Wichita, Kansas went on strike for one week, seeking increased pay and benefits.
On top of the labour issues, repeated manufacturing defects in the fuselages Spirit produces for the Boeing 737 line drove a $206 million loss for the company in the second quarter of 2023.
"We've had much lower deliveries in the second quarter, we've had to add more people, we're taking deliveries out of the plan," Gentile said on 2 August.
"It also has serious impacts on the overall cash flow projection for the year," he added.
Spirit 737 components affected by the production failings included vertical fins and fastener holes on aft pressure bulkheads. The issues forced Boeing to inspect thousands of holes on some 165 737 Max 8 fuselages that had already been delivered to Boeing.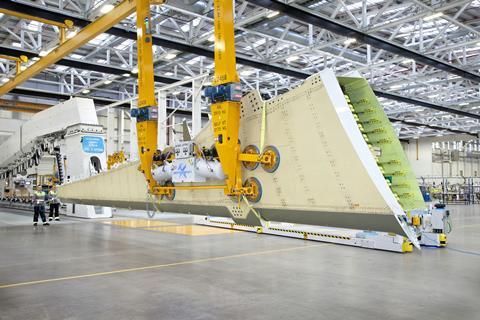 Spirit has also battled financial pressure from an internal effort to boost revenue through the production of composite-material parts, including forward sections for Boeing 787s, centre fuselage sections for Airbus A350s and the A220's composite wings.
Gentile on 7 September said the company's composite-structure programmes face "pressure", noting that higher production rates will help but not solve the issues.
"We have never really achieved the learning curve, to come down in terms of cost," Gentile said during an investor conference hosted by financial firm Jefferies.
Gentile had been at the helm of Spirit for seven years.
Interim CEO Shanahan has been on the Spirit board since 2021. He previously worked at Boeing for more than three decades, including as the senior vice-president for supply chain and operations.
Shanahan also served as the US deputy secretary of defense for six months during the Trump Administration.
"I believe Spirit possesses the assets, know-how and talent to satisfy the extraordinary aviation demand and mitigate global supply chain challenges," he said on 2 October, after assuming the interim CEO role.
Shanahan says his immediate goals will be to stabilise operations and improve cash flow.