Singapore Airlines is bullish about India's long-term prospects and feels its 49% stake in Vistara positioned it well for an evolving Indian airline market.
SIA Group chief executive Goh Choon Phong says that India has for some time been key to the carrier's long-term vision, pointing to the sheer scale of the world's most populous nation, with 1.4 billion people.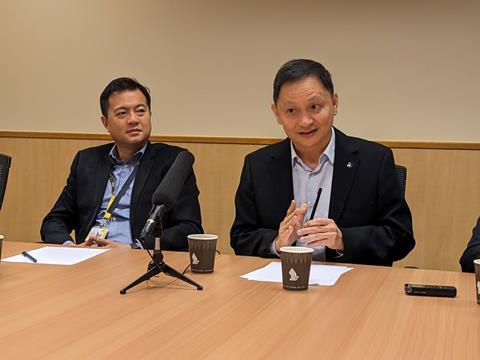 "India is a huge, huge market," says Goh. "It is fast growing; it's going to be the third largest economy in the world and is already the third biggest travel market in the world. Our investment in India allowed us to participate directly in the growth of India."
Goh made the remarks at a 9 November media roundtable at SIA's training facility following the release of the airline's interim results for the six months to 30 September. Growing passenger traffic propelled the group to an operating profit of S$1.55 billion ($1.4 billion), up 26% year on year.
SIA's 49% stake in Vistara is set to become a 25.1% stake in fellow Star Alliance member Air India following the pending merger between the two airlines, a deal expected to complete by March 2024. SIA's partner in Vistara, Tata Group, acquired Air India from New Delhi in early 2022, and set about merging the two full-service airlines, as well as its low-cost units Air India Express and AirAsia India.
In Goh's view, SIA's future participation in Air India is consistent with the carrier's original rationale for the Vistara investment, as it allows direct access to India's growth – a key consideration given SIA's tiny home market in Singapore. Moreover, SIA already co-operates with Vistara, and "that kind of discussion will continue" when Vistara is part of Air India.
"We have been operating to India for a long time, and from our operations we know and can feel the potential for India," says Goh.
He adds that SIA and Tata originally shared a vision to build Vistara into one of India's largest full- service airlines. When Vistara was launched in 2015, Tata's acquisition of Air India, then bleeding cash under government ownership, was not anticipated. Still, SIA's investment in Vistara gave it a strategic position during a tectonic shift in the Indian airline market.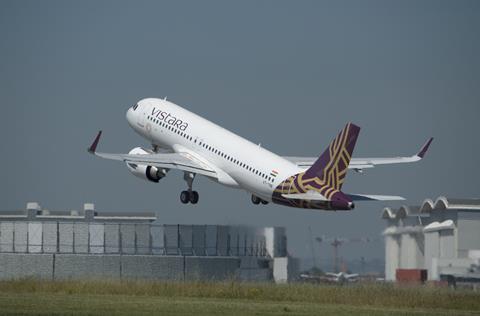 Goh adds that Tata Group enlisted SIA's help to conduct due diligence when it was considering its acquisition of Air India.
India's rising importance corresponds with a softening of Asia's big air traffic growth engine in the 2010s, China. The country's reopening earlier this year – after the abandonment of leader Xi Jinping's 'zero-Covid' strategy – has been somewhat tepid, and this key market has yet to return to pre-pandemic traffic levels.
There are encouraging signs, with Goh noting that demand for travel to China to Singapore was given a boost when visa requirements were waived for Singapore citizens.
"So we are seeing, as a result of this relaxation, more demand into China. It is fair to say at this point, the traffic from China coming out at least to Singapore isn't quite the level that we saw before."
Nonetheless, he feels that over time demand from China will fully recover and that the SIA Group is well positioned to take advantage of it.
Goh's remarks corroborate comments made at SIA's results briefing by chief commercial officer Lee Lik Hsin.
"China's resumption is not yet exactly at pre-Covid, for a whole host of reasons, one of which… is demand," says Lee. "We have not fully restored our China flights though we are progressing in that respect, having restored 23 out of 25 points, with the capacity at about three-quarters of where we were pre-Covid."
Lee also says that SIA has yet to see corporate travel return to pre-pandemic levels. The airline has been able to replace this with additional leisure travel, and this has supported load factors in the premium cabin.
Overall, the SIA Group sees strong demand until the end of the financial year, but competition is rising with other airlines adding capacity, says Lee, which will put pressure on yields.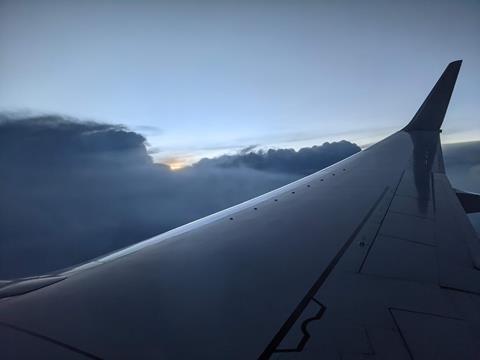 "But overall, from a total demand perspective in respect of filling our flights, we still feel that for the whole financial year we will still have a positive picture," he says.
Goh says the carrier's last remaining Boeing 737-800s will be phased out in the coming years as the airline continues to receive 737 Max 8s. Once the -800s are gone, SIA's business-class cabin will feature lie-flat seats across the entire fleet. Moreover, the -800s lack wi-fi and an in-flight entertainment system, standard features aboard other SIA aircraft.
At the end of March 2024, the group will have 201 aircraft – one fewer than on 30 September 2022 – split between SIA (149) and low-cost unit Scoot (52). The second half of the 2023-24 financial year will see SIA retire one 777-300ER, and Scoot retire five Airbus A320s.
The period will also see SIA take three 787-10s. Scoot will receive a single 787-8 and its first of seven Embraer 190-E2s.
Scoot is also feeling the impact of issues related to the Pratt & Whitney PW1100G turbofan, which power its 15 A320neo-family jets. Four of Scoot's engines are affected by defective high-pressure turbine and compressor disks, requiring comprehensive inspections. SIA Group is working with P&W to address the issue.