Boeing has signed agreements with two South Korean institutes aimed at boosting research and development into new technologies.
The company signed agreements with the Korea Evaluation Institute of Industrial Technology (KEIT) and the Korea Institute for Advancement of Technology (KIAT) during a visit by South Korean president Yoon Seok Yeol to the USA.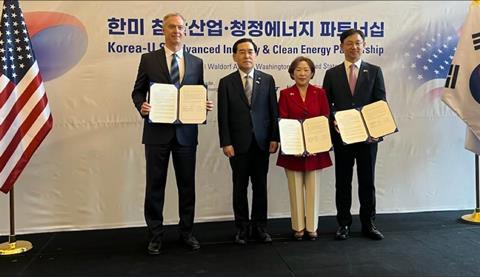 The agreements will see Boeing and the two institutes collaborate in advanced production systems for commercial aircraft manufacturing, urban air mobility, aerospace semiconductors, and industrial talent in South Korea.
KEIT is tasked with identifying suitable Korean companies for participation, while KIAT will define areas for research.
"We will continue to support the advancement of Korea's rapidly growing aerospace sector by leveraging Boeing's global aerospace expertise and Korea's cutting-edge technologies," says Boeing Korea president Eric John.
"We also expect this to benefit the country's aerospace supply chain."
Boeing adds that it has spent over $4 billion with over 50 Korean suppliers in the last 15 years. It also opened the Boeing Korea Engineering & Technology Center in 2019.
Boeing aircraft play a major role in the fleets of South Korea's airlines, while South Korea's military operates several Boeing types.