Boeing's chief sustainability officer Chris Raymond is playing down differences between the US manufacturer and rival Airbus over how to achieve long-term net-zero carbon targets.
While Airbus chief executive Guillaume Faury has been promoting the virtues of bringing a clean-sheet, zero-emission narrowbody-sized airliner into service by "around" 2035, Boeing has distanced itself from such ambitions and instead put an emphasis on the role sustainable aviation fuel will play in meeting targets.
"I think we have been clear that we don't think that launching a large-scale airplane by 2035 is viable – but I think we do have a lot of areas of agreement," Raymond said, speaking at a media briefing in Glasgow on 5 October as the airframer and Alaska Airlines highlighted innovations from the latest Boeing ecoDemonstrator aircraft – a Boeing 737 Max 9 bound for the Oneworld carrier next year.
"I think we are both talking about the same things, maybe them with a bit more emphasis on hydrogen and us on SAF. But the reality is we are both saying the same things.
"I actually think we both agree we are going to need a lot of sustainable aviation fuel and we are going to pursue electrification and we have a lot to study on hydrogen."
SCALING UP SAF IN TIME
But putting its faith in SAF brings with it the challenge of making it a reality. Part of that includes Boeing's commitment, outlined in January, to make all its new commercial aircraft able to burn 100% SAF by 2030.
"We have to do the work to figure out what has to change on our products, assuming there was an unlimited supply of SAF, to be able to go from the 50:50 limitations we have today, to flying 100%. We want to start figuring that out regardless of where supply is going to be. We thought that was our responsibility to do that work," says Raymond.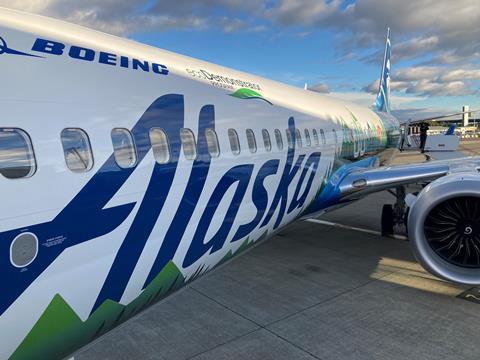 Boeing's ecoDemonstrator programme, in collaboration with FedEx Express, has already in 2018 flown a Boeing 777 Freighter using 100% SAF.
But the wider challenge facing Boeing – and the industry as a whole when it comes to SAF – is to turn aspiration into a functioning economic model.
"It is no longer a technological question, it's not even a safe certification question, and the reason the industry likes it is it's the least impact on the current infrastructure. Now the question is how do we scale it up and resolve the economic question," says Raymond.
"We've always thought as an industry if you could get to 2-3% – say 3 billion gallons a year – that does start to harmonize the economics. And I also think it will depend on what the regulation is saying. Everyone is saying 'it's so much more expensive than jet fuel', but if jet fuel gets more expensive because of carbon taxes or the elimination of the ETS allowances, that delta cost might not start to seem that great anymore."
Boeing's vice-president of global sustainability policy and partnerships, Brian Moran, highlights a series of recent industry commitments which are demonstrating the seriousness of stakeholders.
Both Boeing and Airbus were among wide-ranging industry partners to this month sign the Air Transport Action Group's (ATAG) commitment to achieve net-zero carbon emissions by 2050. That came as IATA members passed a similar resolution at the airline association's AGM, while in the USA the Aerospace Industries Association – representing more than 320 manufacturers and suppliers – also on 4 October committed work to achieve net-zero carbon emissions by 2050.
"The momentum in decarbonising aerospace has never been greater," says Moran.
He also points to supply and demand signals from the industry, such as Royal Dutch Shell's recent announcement that it intends to produce 2 million tonnes of SAF by 2025.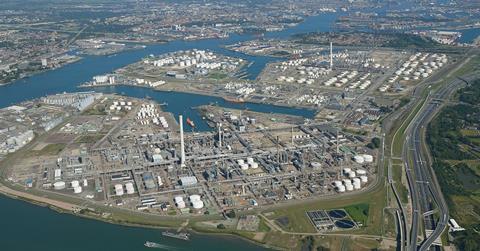 "It will take a lot of announcements like that to get the total amount," acknowledges Moran. "But look at where we came from. You are already seeing exponential growth in the offtake commitments by the airlines and the demand signals that are being sent by companies like ourselves."
Boeing's efforts include its recent partnership with Dutch sustainable fuels specialist SkyNRG, through which the airframer is investing in SkyNRG's first dedicated US facility for SAF production.
Raymond also highlights the cross-sector momentum. "I think there is a confluence of trends that make me hopeful that we can make it," he says.
"What I am encouraged by, is you see the airline demand is there – if you aggregate all the fuel offtake purchases or agreements to purchase. You are starting to approach 10 billion gallons – that's 10% of demand for fuel in 2019, so the demand side is coming.
"The money is starting to come because the demand is there, and if the enabling policy comes alongside of that, that can makes someone's money look like quite a good long-term bet for a capital financing facility."
He also points to pressure on the oil and gas industry to increase its focus on renewable energy. "So now their view on this problem has shifted," he says.
Moran meanwhile highlights a report from ATAG, which estimates the SAF energy transition would require an investment of up to $1.45 trillion over 30 years.
"It takes about 6% of the current capital investment of oil and gas companies to reach the amount of capital needed," he says. "While these are big numbers, that industry is big."