British Columbia-based helicopter operator Helijet International has placed firm orders for four of Beta Technologies' Alia air taxi.
The deal includes options for a further four electric vertical take-off and landing (eVTOL) aircraft and represents Beta's first sales in Canada, the companies said on 31 October.
"We are committed to introducing and integrating zero-emission, vertical lift technologies and related… infrastructure in the communities we serve," says Danny Sitnam, Helijet's chief executive.
Helijet plans to transform its current heliport infrastructure to "meet future urban air mobility vertiport standards" and to accommodate the battery-powered aircraft, he adds.
The companies call the deal the "first Canadian air carrier purchase" of eVTOL aircraft.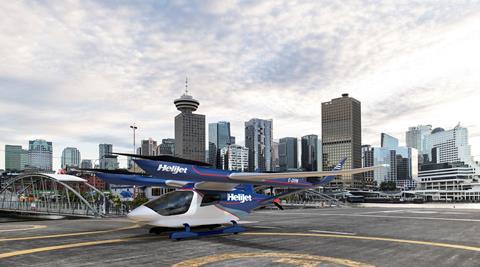 Helijet plans to use the one-pilot, five-passenger Alia as part of its existing network of helicopter routes, "providing quiter, lower cost, sustainable air transportation for travellers in southwestern British Columbia and the Pacific Northwest" of the USA.
The company operates scheduled flights between the cities of Vancouver, Victoria and Nanaimo. Alia has demonstrated a range of up to 336nm (622km) on a single charge.
Alia has "tremendous potential to enhance Helijet's provision of emergency response, air ambulance and organ transfer services, as well as support rural and remote communities that do not have access to affordable and convenient air services", the companies say.
Beta is pushing for certification of its eVTOL in 2026, and recently delivered its first aircraft to the US military.
On 26 October, the company said one of its Alia types had safely landed at Eglin AFB in Florida, completing a more than 1,700nm multi-stage flight through 12 states along the USA's eastern coastline.
Headquarted in Vermont, the company already has a presence in Canada with its research and development facility based at Montreal's Pierre Elliott Trudeau International Airport.