The AVIC AG600 amphibian has completed pressurised airframe fatigue testing, as the programme moves a step closer to eventual certification and service entry.
On its social media account, AVIC says testing was done at the AVIC Special Aircraft Research Institute. The tests spanned a five-month period, or around 18,000 pressurisation cycles.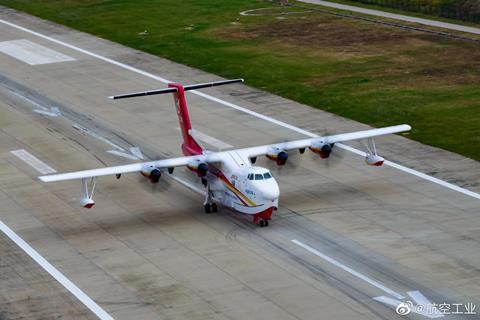 "As an amphibious aircraft…the AG600 needs to meet both aerodynamic nd hydrodynamic operating requirements. The structure of its pressurised fueslage is different from the structure of conventional commercial aircraft, and fatigue analysis and verification of the pressurised cabin structure are added [as further tests]," says AVIC.
China Aviation Industry General Aircraft builds the AG600 at Zhuhai Airport. The amphibian had its first water take-off in 2018, following a first flight in 2017.
The AG600 family is powered by four Dongan WJ-6 turboprops. AVIC had previously disclosed its target for service entry in 2024-2025. The AG600M firefighting variant is expected to enter service in 2024, while the search and rescue version of the four-engined aircraft is expected to do so a year later.
The AG600M has a maximum take-off weight of 60t, higher than 53.3t for the type's original prototype.