Hybrid-electric aircraft developer Dufour Aerospace is aiming its proposed vertical take-off and landing (VTOL) aircraft at pre-existing helicopter markets, hoping to leave competitors behind with a fast and efficient cruise stage.
"In many use cases today, you use a helicopter because of its vertical take-off and landing capacity and not because it is a brilliantly efficient cruise flyer," chief commercial officer Sascha Hardegger tells FlightGlobal on 31 October.
The Swiss start-up seeks to combine both of those attributes with its Aero3 VTOL, and for the aircraft to separate itself "wherever there is a cruise segment – and that's the majority of helicopter operations", Hardegger says. "Between hospitals, that typically involves vertical take-off and landing, but it also involves long segments of flight where you really just cruise so you don't need hover capabilities".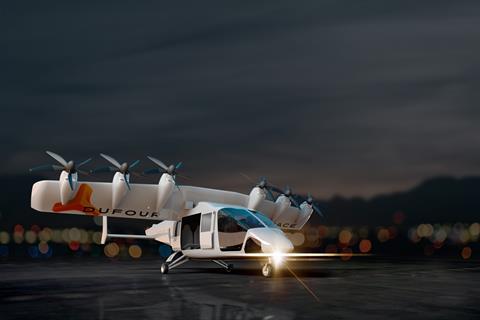 The tilt-wing Aero3 will be optimised for air ambulance missions and critical medical cargo delivery, for which smooth cruising and touch-and-go capabilities are essential. The aircraft is also drawing interest from industries that ship critical spare parts, and for potential surveillance applications, executives say.
The aircraft's tilt-wing configuration is what Simon Bendry, Dufour's head of design, believes distinguishes it from a crowded field of air taxi designs, some of which are based on tiltrotor concepts.
Dufour's proposed aircraft will have six wing-mounted and two tail-mounted propellers. It is inspired by the Canadair CL-84 Dynavert, an experimental aircraft developed in the 1960s that was capable of both vertical and short-distance take-offs and landings. Though the CL-84 programme did not get off the ground commercially, flight tests conducted by the Canadian and US militaries suggested the design was promising.
The Aero3's aerodynamics are "grandfathered from the tilt-wing aircraft that were designed in the '60s", Bendry says. "And then we've replaced all the drive shafts and mechanical linkages and gearboxes that were problems on those aircraft with electric-distributed thrust and software-synchronised control. So, we brought it right up to date for the 21st century."
The design is efficient because tilt-wing aircraft require less simultaneous lift and thrust than do tiltrotor types, Bendry says.
"You don't take off with the wing fully vertical – it's actually around 85 to 86 degrees – because the wing is providing lift even when the aircraft is stationary," he says. "That means the wing is working for you from the outset as you start to transition forward."
STARTING SMALL
Major obstacles face air taxi developers seeking to carry passengers and cargo with a new and novel class of aircraft, from astronomical development costs to uncertain certification pathways.
Current battery technology is another limitation. Dufour is among several advanced air mobility companies banking on hybrid-electric propulsion systems rather than fully battery-powered aircraft, including Electra, Heart Aerospace, Horizon Aircraft and Odys Aviation.
The Aero3 will take off and land using electric power and recharge its batteries during cruise with "an efficient engine solution", Bendry says. The company intends for the aircraft to have 3h of flight duration and says its hybrid powerplant eliminates the need for lengthy charge times between flights.
"When we looked at what was available in pure electric technology, we couldn't meet a three-hour mission or touch-and-go performance because you have to charge your aircraft when it's on the ground. So, right from the beginning, we proposed a hybrid power solution," Bendry adds.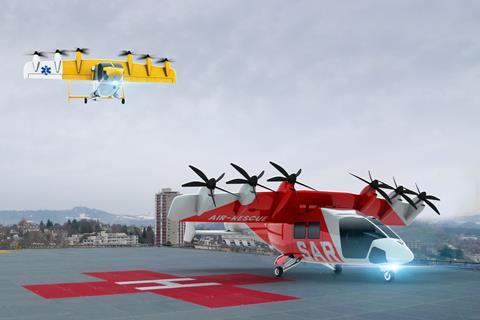 Founded in 2017, the Zurich-based company secured a Series B investment from Vista Global Holding Limited earlier this year. The companies do not disclose the amount invested.
Dufour is taking modest steps on its path to certification and commercialisation. It recently delivered a prototype of its scaled-down Aero2 – a tilt-wing autonomous cargo aircraft designed to carry up to 40kg (88lb) – to its first customer, US drone operator Spright.
The demonstrator, which has a 6m (19.7ft) wingspan, will now begin its first flights in the USA, Dufour said on 1 November. So far, the Aero2 has flown only in Switzerland.
Dufour expects the entry-level version of the remote-automated Aero2 will be certificated to fly critical cargo over relatively unpopulated areas. It plans to follow with a variant certificated to fly over high-density urban areas. Then will come the commuter-capable Aero3.
"It is much easier to start with a smaller, lower-safety-classified aircraft to go through all the means of compliance and the proof of the aircraft with the authorities, and then work our way up, increasing the risk as we go," Bendry says. He also sees commercial advantages in entering the market with an aircraft that is less expensive to produce than a full-sized VTOL.
Aero2 is scheduled for first delivery in mid-2025. Dufour declines to put a timeline on certification and commercialisation of the crewed Aero3, but says it will seek certification with both EASA and the Federal Aviation Administration. It plans to start building its first full-size prototype as soon as next year.
The eventual production VTOL aircraft will have a 13.6m wingspan, payload of 750kg, range of 550nm (1,019km) and cruise at 189kt (350km/h). Dufour says the vehicle will carry up to eight people.