US electric propulsion specialist MagniX will collaborate with UK-based Faradair Aerospace to deliver an 18-seat Bio Electric Hybrid Aircraft (BEHA) by 2026, giving the sustainable aircraft sector a good-news boost during an otherwise bleak year for aerospace.
The new BEHA will use two Magni500 e-motors and associated MagniDrive control system technology for flight propulsion, the companies say on 17 December. Faradair plans to build 300 examples of the aircraft.
"This shows we are on the right track," MagniX chief executive Roei Ganzarski tells FlightGlobal. "Electric being the future of aviation is clearly the right notion because more and more companies are choosing to go down that path."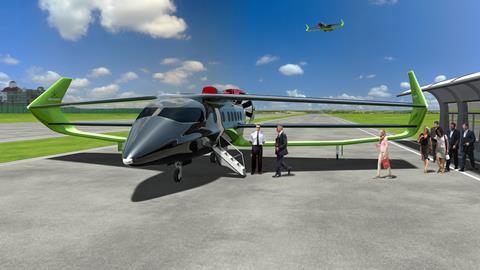 "We are changing the aviation marketplace from a gas-guzzling emission-creating one to a clean, lower-cost, efficient one," Ganzarski adds.
Faradair adds that the BEHA project supports one of the UK government's ambitions for sustainable air transport.
"The British-designed and -built BEHA will emerge in hybrid electric/turbine configuration, but [is] engineered for evolution into a fully electric 'net zero' commercial aircraft when power generation technology delivers the power density levels required for an 18-seat utility aircraft," the company says.
Faradair plans to build the aircraft between 2026 and 2030. Of the 300 projected to be produced, 150 will be built in firefighting configurations, 75 as quick-change (passenger-to-cargo) aircraft for deployment at general aviation airfields, 50 as freighters and 25 for non-civilian government roles. These might include logistics work, border and fisheries patrol and drug interdiction.
The companies call their effort "the largest proof of concept air mobility programme ever created".
"Faradair is building for the future," MagniX's Ganzarski says. "We find that very attractive."
MagniX, based in Redwood, Washington, also has an office in Australia and is 100% owned by Singapore investment company Clermont Group. It is one of four firms chosen to work with Faradair on the project.
Other key partners announced today are Honeywell, which will provide the turbo-generator, Cambridge Consultants, which will integrate the turbine and electric motors, and Nova Systems, which will be responsible for early prototype development and certification.
Being a part of this group "shows that MagniX is providing solutions and not just models and ideas, but actually flying platforms. So from that perspective, our focus and our solutions are paying off," Ganzarski adds.
OTHER PROJECTS
The Faradair BEHA is just one of MagniX's electric aircraft projects around the world.
It also supplied the Magni500 750hp (559kW) electric motor for Canadian commuter carrier Harbour Air's de Havilland DHC-2 Beaver seaplane, which lifted off for its maiden flight just over a year ago at its home base in Vancouver.
Harbour said at the time that the flight of the six-passenger Beaver was first flight of an all-electric-powered commercial aircraft.
Harbour expects to deploy its electric aircraft on passenger flights of about 30min, with 30min of power reserve – sufficient for many of its routes from Vancouver to small communities across British Colombia.
The propulsion company, together with AeroTec, an engineering and flight test specialist, is currently testing an all-electric-powered Cessna 208B Grand Caravan, which had its first flight on 28 May in Moses Lake, Washington. Certification of that aircraft is expected at the end of next year.
Earlier this month, MagniX said that it was working with Sydney Seaplanes, a leading seaplane operator in Australia, on the first Electric Cessna Caravan Supplemental Type Certificate (STC), expected to be completed by the end of the first quarter of 2023.
MagniX has also been chosen as one of two companies to supply Eviation Aircraft's in-development electric aircraft Alice. Alice will use the company's Magni250 powerplants with certification expected in 2022.
But the prototype suffered a fiery accident in January after hours of testing, forcing the aircraft's three occupants to evacuate. Eviation is also owned by Clermont Group.
Story updated on 18 November to correctly spell Roei Ganzarski's surname.