Two stalwarts of the European summer aerospace event calendar – the Farnborough air show and Royal International Air Tattoo (RIAT) – have become the latest to confirm their cancellation due to the coronavirus pandemic.
The organisers of both UK events announced their decisions on 20 March, citing the effect of the Covid-19 outbreak and resulting restrictions on public gatherings.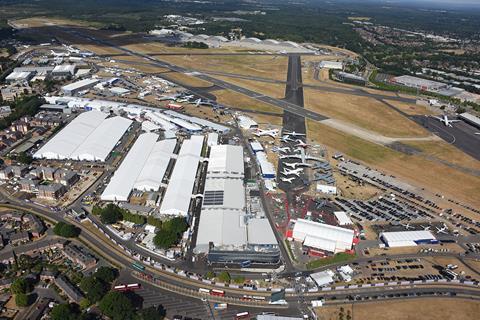 "After very careful consideration, the unprecedented impact of the global coronavirus pandemic has forced this decision in the interests of the health and safety of our exhibitors, visitors, contractors and staff," says show organiser Farnborough International.
"Several major factors surrounding the outbreak… make it impossible for us to create and host the air show," it adds. The event had been due to take place at the Hampshire site from 20-24 July; the organiser last year opted to end hosting public displays over the subsequent weekend.
"We understand this news will be an incredible disappointment to all across the international aerospace industry, not to mention our important exhibitors, suppliers and visitors," Farnborough International says. "But rest assured, we are determined to continue to work together and will ensure the Farnborough International Airshow returns in 2022 better than ever."
Meanwhile, the organisers of RIAT – which was to have taken place at RAF Fairford in Gloucestershire from 17-19 July – says the current global health emergency represents a "challenging and unprecedented environment… worsening by the day".
"The Air Tattoo is reliant on the support of a wide range of stakeholders, not least the participation of international air arms, medical professionals, military security teams and our emergency services, many of whom are delivering a fundamental contribution to fighting this crisis. We believe delivery of our event would distract them from this," they say.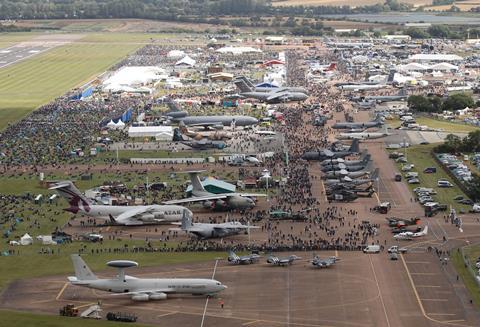 The event will return in 2021, with the event to mark the Air Tattoo's 50th anniversary.
Multiple aerospace-themed events around the globe have now been cancelled as a result of the coronavirus spread and its huge impact on the airline industry. Others to have already been axed within recent weeks include the Aircraft Interiors Expo, Aero Friedrichshafen and ILA Berlin air show in Germany, EBACE in Switzerland, Chile's FIDAE and major US military gatherings including the Navy League's Sea-Air-Space show and the Army Aviation Association of America's 2020 Summit.