UK government-funded research project FlyZero has unveiled its initial concept for a zero-emission regional aircraft that could carry up to 75 passengers on routes of up to 800nm (1,480km).
Power for its six electric motors is generated by a fuel cell system with the required liquid hydrogen stored in cryogenic tanks in the aft fuselage.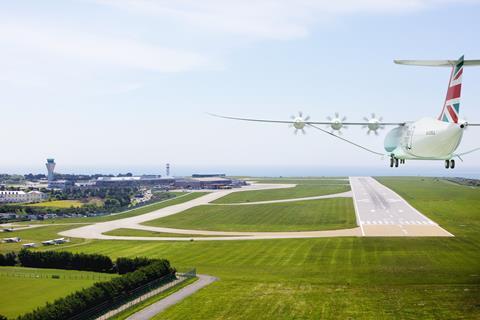 The motors are housed in the nacelles, alongside the power electronics and heat exchangers for the fuel cell heat management system.
Cruise speed would be around 325kt (600km/h) using the architecture outlined, says FlyZero.
It plans to unveil a final version of the concept in March, alongside designs for zero-emission single-aisle and mid-size aircraft.
Meanwhile, in its latest report – UK Capability in Zero-Carbon Technologies – FlyZero has identified future market opportunities for the aerospace sector as the industry increasingly pushes for cleaner aircraft.
It sees dry-wings, fuel cells and hydrogen gas turbines as key areas of focus for UK industry, developing existing capabilities on current-generation aircraft.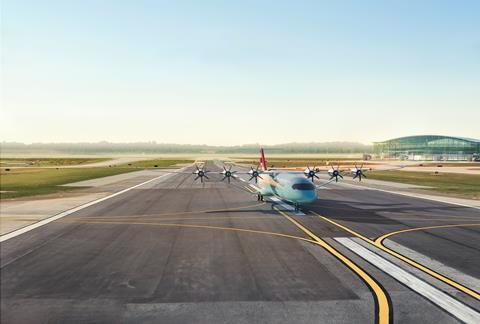 However, FlyZero warns that without a coherent government policy, the opportunity may be missed.
It calls for several initiatives to be adopted, including the foundation of a hydrogen technology centre, and the provision of funding beyond initial research and development.
"Reducing the risk and cost of bringing revolutionary technologies to market can drive the required scale and pace of development," it says.
FlyZero is delivered through the Aerospace Technology Institute and staffed by experts seconded from industry, with the government providing £15 million ($20 million) to cover those costs and for project overheads. Its initial 12-month term runs until March 2022.