The good news is the commercial aviation industry is rebounding fast from Covid-19. The bad news is aerospace producers are struggling to keep up. Does a snarled-up supply chain put recovery at risk?
The major theme of July's Farnborough air show was sustainability. How to cut aviation's carbon output will top the agenda at aerospace companies for years to come. However, in the immediate term, another "s" word is obsessing those charged with managing what ought to be an impressive recovery from the pandemic: supply.
The wider industry's inability to cope with staff and raw material shortages and logistical snarl-ups is arguably its biggest challenge in 2022.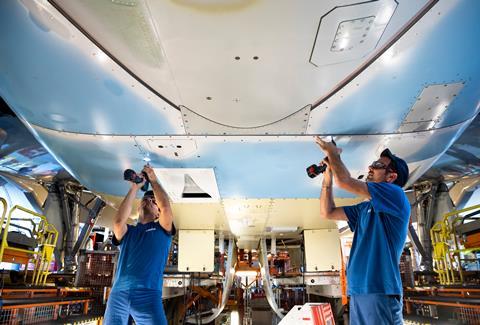 Headlines during the past year make clear the reasons: war in Ukraine and Russian sanctions, the impact of China's zero-Covid policy, a distorted labour market as businesses struggle to re-recruit skilled workers who retired or quit the industry during aviation shutdowns. The big question is whether the supply chain's traumas will simply sort themselves out in the coming months, or emerge as something structural that will affect longer-term ramp-up strategies.
PRODUCTION SCHEDULE
Over the summer, a succession of big aerospace firms have identified issues with supply as a serious risk, with engine deliveries the biggest worry for the big two airframers. Just before the Farnborough show, Airbus chief executive Guillaume Faury said he was confident the company could achieve its highest-ever single-aisle output rate of 75 A320 family aircraft per month by 2025 – from around 40 currently – even though engine supply was lagging Airbus's own production schedule.
Limited availability of CFM International turbofans are Boeing's number one supply constraint when it comes to increasing 737 production, Boeing Commercial Airplanes chief executive Stan Deal said during the show. A week later, his boss, Boeing chief executive David Calhoun, stated that lack of engines – not lack of customer appetite – is the main factor holding back plans to increase narrowbody production from 31 to 38 units monthly.
Engine manufacturers admit there is a problem. CFM is the exclusive powerplant provider to Boeing on the 737 Max with the Leap-1B and competes with Pratt & Whitney's geared turbofan on Airbus's A320neo family with the -1A variant. In late July, one of CFM's co-owners, General Electric, maintained the company was working hard to address the shortages. "Our major airframer customers need more engines from us than we are providing," said chief executive Lawrence Culp.
CFM output numbers make clear the scale of the challenge. In the first half of 2022, the business, which Safran of France jointly owns, delivered 465 Leap engines, up from 399 in the first six months of last year, but a little over half the 861 shipped in the equivalent period in 2019. If CFM is struggling to hit the totals expected of it by Airbus and Boeing now, how much harder will it be in 2023 and 2024?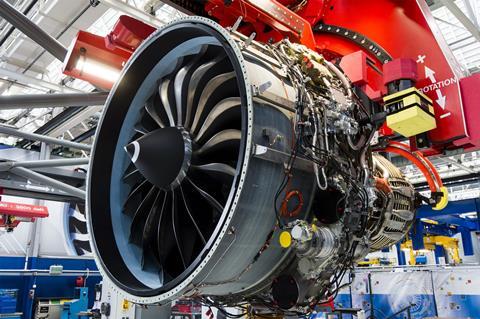 In July, CFM chief executive Gael Meheust conceded ramping up would not be easy. "The global supply chain is challenged. This is something every industrial company is facing, and we are not immune," he told FlightGlobal. "There are 23,000 parts on an engine. It only needs a few to be missing to prevent delivery, so we are working hard with our supply chain and providing all the help we can."
Raytheon Technologies, which owns CFM's rival P&W, said in late July that a shortage of titanium, used to make castings and forgings, due to sanctions on Russia, was one factor preventing the engine manufacturer hitting its production targets. Another, noted chief executive Greg Hayes, was the availability of skilled labour, both within P&W's own workforce and its suppliers. He warned that there were no ready solutions. "This does not get solved this year," he said.
WIDEBODY SEGMENT
Less affected is the industry's other big engine maker, Rolls-Royce, mainly because the widebody segment in which it specialises is seeing slower growth. Speaking during an earnings call on 4 August, chief executive Warren East said this was giving the UK firm "some breathing space". However, it has been taking steps to rationalise its supply chain – spending more with few suppliers, according to East – to ready itself for a return to pre-pandemic production numbers.
That might come sooner than many imagine, suggests manufacturing software supplier Dassault Systemes. David Ziegler, vice-president of aerospace and defence at the French technology company, warns that OEMs are "not getting ready enough, fast enough, for the ramp up". He expects long-range air travel to pick up substantially over the next six to nine months, and this will leave airlines short of twin-aisle aircraft as well as narrowbodies.
While engine firms have been under the most scrutiny, other component manufacturers face their own challenges. On 3 August, aerostructures giant Spirit AeroSystems said supply chain glitches – including the bankruptcy of a supplier to the A220 programme – as well as staff shortages had affected its first-half performance in 2022. The Witchita-headquartered company also is a major supplier to the 737 as well as the 787.
Parts shortages are not just affecting those who make commercial airliners. Textron Aviation – which is behind the Cessna, Citation and Beechcraft brands – has said it will have to delay some planned 2022 deliveries to 2023 because of supply chain disruptions and labour shortages, costing the company "a couple of hundred million dollars" in lost revenue. "The challenge is just getting enough people and suppliers to deliver the parts," chief executive Scott Donnelly said in late July.
While much of the focus has been on hold-ups in raw materials, the massive upheaval to the labour market caused by the pandemic is a huge block on returning to business as usual. Nearly all member companies of US trade group Aerospace Industries Association are experiencing "workforce issues", says chief executive Eric Fanning. He believes that Covid-19 has made worse a long-standing problem, as the industry is heavy with employees nearing retirement.
Although stay-at-home mandates did not affect most industrial companies, many reacted to the sharp downtown in air travel in 2020 by laying off large proportions of their workforce. Many accepted early retirement or other attractive severance packages. The trend to doing jobs from home also gave many factory workers a taste of a better work-life balance, he believes. All this has made it difficult for manufacturers to re-skill their businesses.
Hayes acknowledges the problem. During previous industry downturns around three-quarters of laid off employees would eventually return to their jobs. This time, only a quarter of staff have come back to the industry, with smaller companies particularly affected. "In the second, third and fourth tier of the supply chain, they are struggling to attract workers," he says, adding ominously: "The only thing that is going to solve labour availability is a slowdown in the economy."
Alex Krutz, managing director of the Patriot Industrial Partners consultancy, says that, although aerospace manufacturers are rushing to hire more employees, they are paying higher wages to attract the talent, which is in turn pushing up pay rates for existing staff. He says this wage inflation could put smaller suppliers under financial pressure, or force them to look at selling their businesses to larger competitors or customers.
A report by Deloitte says the Ukraine conflict has exposed the industry's reliance on critical minerals from Russia – prior to sanctions, the country supplied 50% of the titanium used in aircraft. It is also a major producer of metals such as nickel, cobalt and vanadium. The advisory firm advises aerospace and defence companies to build more "resilient supply chains" in "the face of shifting geopolitical landscapes and trade flows".
Krutz says that, while close to a third of all the titanium used across industries comes from Russia, producers in Australia, Japan and South Africa all mine the element. The challenge is the time it takes to certify new sources – up to 18 months depending on programme requirements and complexity, says Krutz. China could also soak up some capacity, but, for Western manufacturers, switching dependency from Russia to China comes with its own geo-political risks.
TRANSPORT BREAKDOWNS
Sometimes hold-ups in supply are simply down to logistics. The fall-out from the March 2021 blockage of the Suez Canal showed how vulnerable the global economy is to transport breakdowns. Even shipping components from Europe to the USA could be problematic, says Krutz, who suggests that Airbus might have to consider sourcing more components from the USA to support the opening of another A320-family production line in Mobile, Alabama, rather than relying on European suppliers.
So with the conflict in Ukraine showing every sign of continuing into next year and shortages of all sorts of commodities fueling global inflation, is the situation for the aerospace supply chain set to become even more grim? Most executives are reasonably optimistic about a short-term improvement. "You are going to see a big step up in the back half of the year in [geared turbofan] deliveries," states Hayes.
Faury too is confident that, despite finishing the first six months of the year with 26 otherwise-complete Airbus aircraft waiting for engines, the airframer will have eliminated any backlog by the end of the year. Speaking during a first-half results briefing on 27 July, Faury said he believed that Airbus would be able to achieve its narrowbody production ambitions during 2023 "with enough engines".
FURTHER PRESSURE
Calhoun is less optimistic, suggesting that the engine supply problems might not be fully resolved for three to five years. As well as ramping up 737 production, Boeing has now begun increasing 787 production after resuming deliveries in early August, something that will put further pressure on the supply chain going into 2023. In fact, if long-haul travel generally starts to recover in line with short-haul, the current situation could get worse.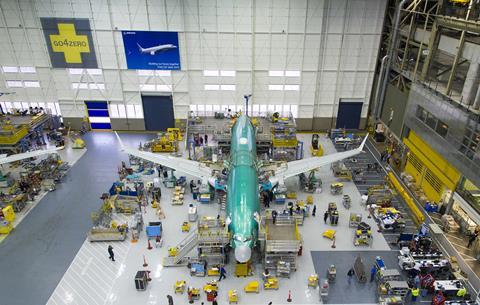 Krutz thinks airframers and engine makers are already looking at ways of supporting distressed suppliers, including buying debt and becoming lenders-of-last-resort. Another option is for them to pay suppliers in advance, or simply source the raw materials themselves and pay for the value-added. The last resort might be to acquire the supplier. All these, of course, require large capital deployment, but are viable options when balanced against the risk of a key supplier collapsing.
Krutz says that there have been times in the past six months when certain more exotic materials were simply not available. While that no longer seems to be the case, he believes the biggest problem now is inflation, driving the cost of materials to two or even three times what they were less than a year ago. This, he claims, primarily affects smaller suppliers who are not able to extract the sort of bulk purchasing discounts their larger customers can.
Of course, as events since early 2020 prove, forecasting months, let alone years ahead is full of pitfalls. A new vaccine-resistant variant or spiraling inflation bringing about a collapse in consumer confidence could throw aviation's gains of the past 12 months – and the airframers' ramp-up ambitions – into reverse. However, if a resurgence in widebody orders matches recent short-haul travel trends, the industry's supply headaches could get a lot worse before they get better.