US electric aircraft developer Joby Aviation roughly broke even during a third quarter in which it passed several milestones on its intended path to launching commercial air taxi operations in 2025.
The Santa Cruz-based start-up said during its 1 November earnings call that it made $1.5 million in the quarter, compared with a $79 million loss during the same period of last year.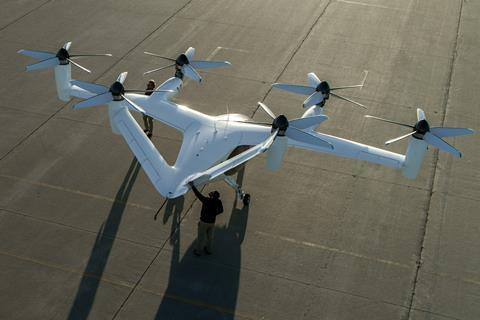 The company's income "reflected the revaluation gain on derivative liabilities of $116 million and interest income of $13.6 million", says Joby.
It spent $101 million on research and development during the quarter amid its push for certification of its electric vertical take-off and landing (eVTOL) vehicle.
The company lost $398 million in the first nine months of 2023.
But it remains in a relatively stable position. Joby says its "balance sheet remains the strongest in the industry", a significant advantage in the expensive race to develop a new class of aircraft.
As of 30 September, Joby held some $1.1 billion in cash and short-term investments – roughly the amount it had on the same date of 2022.
During the third quarter, Joby began a flight-testing programme with pilots on board. Chief executive JoeBen Bevirt says the pilots have put the aircraft through basic manoeuvres such as hovering, tracking runway centre lines and decelerating to a vertical landing.
"They also perform more complex manoeuvres such as flying precise circles around a centre point, something which is considerably simpler in our aircraft than in a helicopter," he says.
In September, Joby delivered the first of nine aircraft it plans to hand to the US Air Force (USAF) under its $131 million Agility Prime contract.
"Our aircraft became the first electric air taxi to be delivered to the Air Force and will be used to demonstrate a range of logistics missions, including cargo and passenger transportation," Bevirt says.
Vermont-based electric aircraft manufacturer Beta Technologies also recently delivered its first eVTOL aircraft to the US military, landing one of its Alia types at Eglin AFB in Florida.
Three more of Joby's aircraft are being produced at its production facility in Marina, California, the first of which will be delivered to Edwards AFB in early 2024.
The aircraft will be operated by both Joby and USAF personnel "providing invaluable operational and training experience for us as we prepare for the launch of commercial passenger service", Bevirt says.
Regarding its progress on certification, Joby has begun FAA-conforming manufacturing and for-credit testing with the US civil aviation regulator.
The FAA recently accepted Joby's certification plans for its batteries and high-voltage power distribution system, Bevirt says: "This is a critically important milestone for us that builds on a long history of battery development and testing and brings us one step closer to certification."
"We're excited to be turning our efforts now to stage four of the certification process where we plan and execute certification testing for our batteries and high-voltage systems," says Didier Papadopoulos, Joby's head of aircraft OEM.
Also during the third quarter, Joby revealed plans to build a manufacturing facility in Dayton, Ohio, where it has been offered up to $325 million in state and local incentives to base its large-scale production plant.
"The 140-acre site we have selected at the Dayton International airport will enable us to build a facility capable of delivering up to 500 aircraft per year," Papadopoulos says. "But it also has the potential to support significant growth over time, providing enough land to build up to 2 million square feet of manufacturing space."
Joby says the civilian variant of its aircraft will be capable of carrying four passengers on trips as far as 87nm (161km) and at speeds of up to 174kt (322 km/h).