Lilium has begun windtunnel tests of a 40%-scale model of its electric vertical take-off and landing Lilium Jet.
Complete with working engines and flap actuators, the model is being used to obtain aerodynamic data for the entire flight envelope to validate the company's flight physics and performance predictions ahead of the arrival of its type-conforming aircraft in 2024.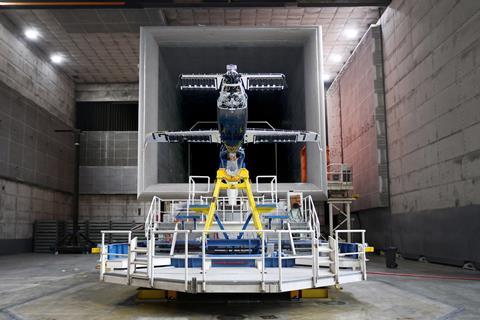 Lilium says the model's size and low-scaling factor "allows test data to be generated that is representative of the full-scale aircraft in all phases of flight".
Alastair McIntosh, Lilium chief technology officer, adds: "This is an important step in our aircraft programme and it is very exciting to see this large-scale Lilium Jet model with working engines and wing flaps.
"We look forward to generating vast amounts of aerodynamics data on the aircraft and building further confidence in our design tools as we prepare for the start of final assembly later this year."
Lilium previously conducted windtunnel campaigns of aircraft sections in 2021 and 2022.
Testing is being carried out at the German-Dutch Windtunnels facility in Marknesse in the Netherlands, jointly run by the nation's respective DLR and NLR research institutes.

Dominic Perry is deputy editor of Flight International but also contributes extensively to flightglobal.com. Although specialising in the coverage of the helicopter industry, he has written on most topics in aerospace – be they commercial, defence or business aviation. In addition, there has been an increasing focus on the decarbonisation of the industry and zero-emission flight initiatives.
View full Profile