Russian researchers have started investigating a new twinjet cargo aircraft design which would be capable of operating unmanned.
The concept – designated the light high-speed transport aircraft – is being analysed by Moscow's Central Aerohydrodynamic Institute, as part of a Russian trade and industry ministry contract.
Preliminary designs show the proposed aircraft would have a high-wing and T-tail configuration, and the elimination of the cockpit means it can feature a hinged forward fuselage that swings open for nose-loading.
It would be able to carry a containerised payload of up to 6t over a range of 2,160nm (4,000km).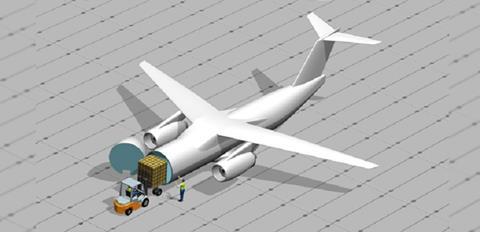 "Unmanned civil aviation is one of the most promising areas in the aircraft industry, both technically and economically," says Alexander Krutov, a junior aerodynamics researcher at the institute.
While the institute envisions the aircraft competing with turboprop types including the Antonov An-24, Ilyushin Il-112V, and ATR 42, it would be able to fly at 450-460kt.
"Initial calculations of flight performance have been carried out," it adds. The development work will shift to focus on aerodynamic characteristics, including analysis of high-lift surfaces for the wing, and optimisation of structural weight.
As well as offering weight savings, and operational economics through the absence of crew, the aircraft would need only a 1,300m (4,270ft) runway from which to operate. The institute says this means it could serve "most of Russia's airports".