French hybrid-electric aircraft developer VoltAero is gearing up for the maiden sortie of its initial Cassio 330 prototype, which the company expects to take place later this year.
Jean Botti, chief executive of the Royan-headquartered start-up, says the first prototype is structurally complete and its hybrid-electric powertrain is also being assembled.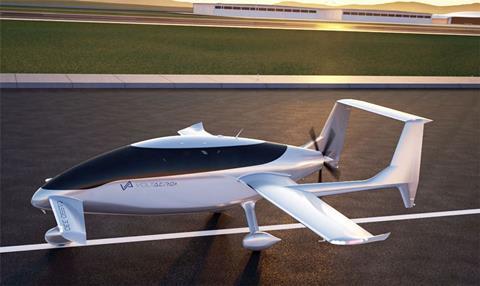 He anticipates a first flight "in the fall" during which the aircraft will be powered solely by its Kawasaki Motors-supplied 150kW (201hp) thermal engine.
Botti says the first prototype will be used to assess the Cassio 330's handling qualities and aerodynamic performance and will be later used for additional propulsion development activities.
A subsequent example, to follow in early 2024, will be the first to be fitted with the complete hybrid-electric powertrain and will lead the certification push.
VoltAero's hybrid-electric module combines the Kawasaki thermal engine, Safran Engineus 100 electric motor and a gearbox from French transmission specialist Akira. Batteries are supplied by US firm Electric Power Systems.
Taxi, take-off, climb and landing are performed solely using electric power, while the thermal engine serves as a range extender, recharging the batteries during cruise. It also provides a back-up in case of an electrical system failure.
Already used in the motorcycle industry, the Kawasaki power unit will deliver high levels of maturity at service entry, helping to de-risk the programme, argues Botti.
Bench tests of the complete powertrain will commence shortly, ensuring it is ready for installation in the second prototype.
Kawasaki Motors recently became an investor in VoltAero, contributing to its Series B funding round through which the company is aiming to raise €32 million ($34.5 million).
Botti says the Series B funding - which is around 70% complete - will be sufficient to see the Cassio 330 into series production; a follow-on investment round, to be launched in mid-2024, will then be required to support the ramp-up and the development of future models, he adds.
Certification of the five-seat Cassio 330 is targeted for end-2024. It will be followed, at 18-month intervals, by the six-passenger Cassio 480, using the same fuselage and wing but equipped with a more powerful 480kW propulsion system, and then the larger 12-passenger, 600kW Cassio 600.
VoltAero has taken pre-orders covering the entire family of aircraft and will work this year to begin converting these into firm commitments, he says.
Production of the Cassio family will take place at a new facility in Rochefort in southwest France; construction of the site is to begin shortly.
The Cassio design incorporates a forward fixed canard and an aft-located wing with twin booms, supporting a high-set horizontal tail. The rear-mounted propulsion system powers a low-noise pusher propeller supplied by Duc Helices.
Propeller performance is currently being assessed using VoltAero's Cassio testbed, a modified Cessna 337 Skymaster. In addition, that aircraft has now been rebadged as the Cassio S – for sustainable – and is also testing a new synthetic sustainable aviation fuel.

Dominic Perry is deputy editor of Flight International but also contributes extensively to flightglobal.com. Although specialising in the coverage of the helicopter industry, he has written on most topics in aerospace – be they commercial, defence or business aviation. In addition, there has been an increasing focus on the decarbonisation of the industry and zero-emission flight initiatives.
View full Profile