Airbus has completed a test-flight of its A321XLR with a complement of 200 people on board, simulating real-life in-service conditions.
The flight, lasting 6h 12min, took place on 5 October, starting and ending in Toulouse.
Airbus says 167 employees of the airframer, as well as 33 other occupants – specialists, flight-test personnel and cabin crew – participated in the test using prototype aircraft MSN 11080.
The company says the flight enabled A321XLR cabin procedures to be refined, and systems assessed, and marks an "important contribution" to the validation and certification process, ahead of entry into service next year.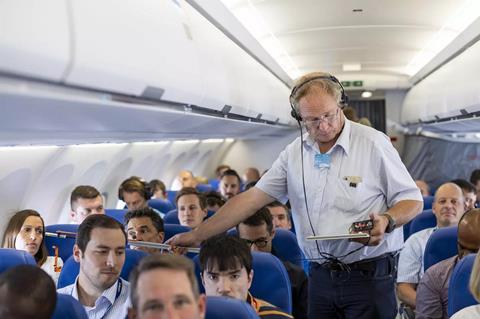 Airbus surveyed passenger perceptions of the aircraft, relating to comfort and ergonomics, while specialists measured such aspects as cabin temperature and noise levels.
"Crew noise exposure was recorded, especially around the area of the main entrance door," says the airframer. "The new 'Airspace' cabin elements were also tested for any vibrations or resonance during different flight phases."
The aircraft has undergone a route-proving campaign as part of the certification.
Airbus says the 5 October test flight was powered by a 30% blend of sustainable aviation fuel.