Airbus has expressed doubt that a trial to resolve its legal scrap with Qatar Airways over A350 fuselage-skin paint degradation will take place on time in June next year, accusing the airline of shortcomings in the disclosure process.
The two sides clashed in court on 11 November during a case-management conference, as they sought to meet an expedited schedule for the trial, while trading accusations of cosy regulatory relationships.
Airbus says it has "serious concerns" over the feasibility of making the timetable, pointing out that it was "always tight" but that Qatar Airways is "foot-dragging" and needs to take "urgent steps" to fill "gaps" in its disclosures.
Without such measures, Airbus claims it could have no option but to apply for a trial postponement.
Airbus has sought details from the airline over the condition grading of two A350s – MSN33 and MSN76 – which were not grounded by the airline, and clarity over the grading timeline.
These aircraft, according to Qatar Airways, were not grounded for the reasons those with skin-degradation reasons were. Qatar Airways graded the pair as being in 'good' condition in May last year, while the A350s grounded from June were 'poor'.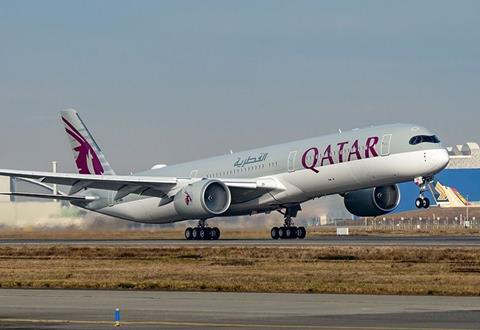 Airbus is seeking a clear maintenance-related explanation for the assessment, pointing out that it is relevant to whether Qatar's concerns over its A350s' airworthiness are genuine and whether it has given accurate information to the Qatari civil aviation authority.
It adds that it is "disappointed" that Qatari civil aviation authority documentation for grounding the A350s is "still not forthcoming".
Qatar Airways says it is working on a "technical solution" to meet Airbus's request for a complete set of maintenance and inspection records for the A350 fleet, in order to make them "accessible", but adds that this "vast" data set covers over 750,000 documents.
It expects to list and process the documents in batches of 150,000 over the course of six weeks.
Airbus has formally requested that Qatar Airways collect information from personal devices held by six senior personnel – among them chief executive Akbar Al Baker and senior vice-president, technical, Ali Al-Hilli – to obtain details of interactions with the Qatari civil aviation authority.
The airframer alleges that the airline has acted in bad faith in regard to the civil aviation authority's decision to ground the A350s, and "may have wrongfully colluded or conspired" with the regulator to attempt to improve the airline's commercial position with Airbus – and that personal devices might have offered informal and discreet channels of communication.
Qatar Airways has similarly argued that Airbus has a close relationship with the European Union Aviation Safety Agency – which has not taken grounding action over the A350 – insinuating that the airframer has effectively coached the European regulator over the A350 situation, and that EASA's conclusions are not independent.
"Airbus sought to, and appears to have succeeded, in exerting its influence over EASA," alleges Qatar Airways in a document of skeleton arguments prepared for the court session.
Qatar Airways describes Airbus's request to search personal devices as "breathtakingly wide", and the airline has countered with its own attempt to obtain similar searches of devices used by Airbus chief Guillaume Faury, general counsel John Harrison, and two senior airworthiness personnel.
Airbus has dismissed this as a "tit-for-tat" measure, calling it "as transparently tactical as it is unjustified and disproportionate". It insists Faury, while leading the company and managing relationships with Qatar and liaising with EASA to a limited degree, is not involved in the Qatar dispute at a technical level.
The dispute over phone searches echoes a legal case heard in the UK between leasing companies and the Middle Eastern carrier Saudia, during which a request to obtain phone data was denied because the personal phones were not considered to be under the airline's control.
Qatar Airways believes a similar situation applies, and argues that Airbus has not provided evidence that the personal devices of the airline's personnel are under the control of Qatar. It adds that, if Airbus wants to explore differences between Saudi and Qatari law, such legal analysis will "take time".
Although Airbus has alleged bad faith against Qatar Airways, the airline rejects the accusation, citing an email message from Airbus chief commercial officer Christian Scherer indicating the carrier was "genuinely worried" about its A350 fleet and that the issue was not about money.