A coalition of 30 aviation industry groups, lobby organisations and professional associations signed a joint letter to the US government insisting it implement urgent and coordinated measures to secure the sector and protect 11 million aviation-related jobs.
The letter comes as airlines are struggling to deal with the economic fallout following the rapid global spread of the coronavirus, and the resulting sharp decline in demand that has grounded large portions of their fleets.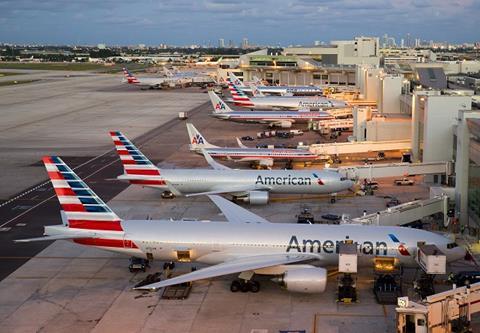 "Actions taken on a global scale have proven extremely fluid, are rapidly evolving on an almost hour-by-hour basis and have had a debilitating impact on the US aviation industry and our employees," the letter, dated 19 March, reads. "Our goal is to keep the US aviation system intact and operating to the maximum extent possible to support the public health and recovery effort, keep aviation companies and related businesses large and small open and functioning during this time and ensure the livelihood of our employees."
Earlier this week, lobby groups sent initial requests for government aid they say is needed to help the industry overcome the rapid decline brought on by the global coronavirus pandemic. Airlines for America (A4A), which represents 11 of the largest passenger and cargo carriers in the country, called for a $58 billion package to include tax breaks, grants and loans to prop up the industry.
Small and medium-sized aviation-related businesses, represented by general and business aviation groups like the General Aviation Manufacturers' Association, Helicopters Association International, and the Aircraft Operators and Pilots' Association, followed shortly thereafter with an appeal of their own.
All of these groups joined with others including Airports Council International, pilot union Air Line Pilots Association, the National Business Aircraft Association and IATA in signing the Thursday letter addressed to US secretary of the Treasury Stephen Mnuchin and congressional leaders of both parties.
"For passenger carriers alone, net bookings for the next few months are down 100 – 200 percent, as cancellations are rapidly outpacing new bookings and trending worse each day," the letter continues. "Carriers have been forced to remove flights from their schedules and make historic capacity cuts."
"Pressure is growing in rural and main street America as general and business aviation that serve these communities begin to face increased economic uncertainty. The economic impact on the US aviation industry, their employees, travelers and the shipping public is staggering," the organisations say.
The coronavirus crisis has already claimed two US regional passenger carriers, Compass Airlines and Trans States Airlines, as well as Canadian leisure carrier Sunwing Airlines, all of whom have said they will cease operations in early April.
A US travel ban on foreign visitors and the State Department's 19 March overseas travel warning have exacerbated the situation for airlines, which have cancelled up to 75% of their schedules until well into the month of April.