CFM International will over the next two to three years roll out a series of "improvement steps" for the high-pressure turbine blades on Leap engines designed to address premature wear issues seen on examples operated in "harsh environments".
Earlier this year, the GE Aerospace-Safran narrowbody engine joint venture disclosed that Leap engines operated in hot and dusty conditions, notably India and the Middle East, were still experiencing premature degradation of components including fuel nozzles and high-pressure turbine (HPT) blades, reducing time on wing. The issue was first revealed in 2021 via a series of airworthiness directives.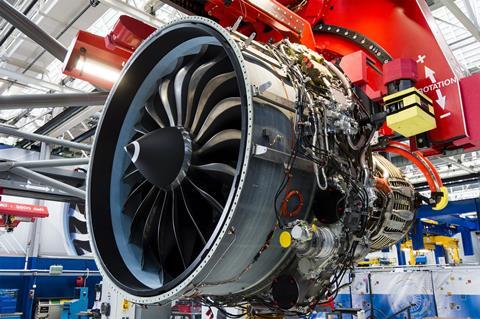 CFM and its partner companies have been working "intensively" to develop fixes for those issues, Safran chief executive Olivier Andries told analysts during the company's first-quarter results call on 26 April.
While not disclosing the technical specifics of the planned changes, Andries promises "improvement steps over the next two to three years to come" which would focus on the "HPT blades especially".
"Time on wing will gradually increase with the new engines that we are going to deliver. As for all those engines that will be removed for quick-turn maintenance, we will retrofit them with the new improved blades.
"It is going to be a big plan over the next two to three years to come."
CFM delivered 366 Leap engines in the first quarter, up 53% on the 239 shipped in the same period a year earlier, and a 13% increase on the final quarter of 2022.
Andries remains confident that the joint venture can ramp output by around 50% across the full year despite continued disruption to the global supply chain.
While still challenging, Andries says the supply chain issues have become less acute in the engine business "and we are not pacing at all the aircraft assembly lines on both sides of the Atlantic".
CFM Leap-1Bs power all Boeing 737 Max jets, while the Leap-1A is an option on the Airbus A320neo family alongside the Pratt & Whitney PW1100G.
Andries also foresees no change to the rate of Leap-1B production from Boeing's recently announced pause to the majority of 737 Max deliveries while the airframer addresses a fuselage quality issue.
"It will not impact our pace of Leap deliveries to Boeing; there is no change for us – we move on with Leap deliveries to Boeing as planned," he says.
Supply chain turbulence still remains Safran's "number one watch item", with the issue having become "more prevalent" across the company's equipment division, which supplies components including nacelles, landing gears, brakes, wheels, and wiring to the major aircraft programmes.
Additionally, this segment, excluding nacelles – output of which is largely tied to engine volumes – saw little year-on-year growth having been impacted by the airframers, which "revised down their demand".
Andries does not specify which programmes are particularly affected but notes that "on the equipment side we are more focused on Airbus".
Adjusted group revenue reached €5.2 billion ($5.7 billion) for the quarter, a 29% increase on the €4 billion recorded in the same period of 2022. The propulsion unit accounted for the bulk of this, at €2.7 billion, followed by equipment and defence at €1.9 billion and interiors at €584 million.

Dominic Perry is deputy editor of Flight International but also contributes extensively to flightglobal.com. Although specialising in the coverage of the helicopter industry, he has written on most topics in aerospace – be they commercial, defence or business aviation. In addition, there has been an increasing focus on the decarbonisation of the industry and zero-emission flight initiatives.
View full Profile