Two of China's three largest carriers have recorded new highs in domestic passenger traffic for the year, underpinning the Chinese airline industry's rapid domestic recovery from the coronavirus outbreak.
In traffic results released for August, China Eastern Airlines and China Southern Airlines carried more passengers than they did in January, right before traffic bottomed out amid onerous lockdowns imposed in several Chinese cities and provinces to curb the pandemic's spread.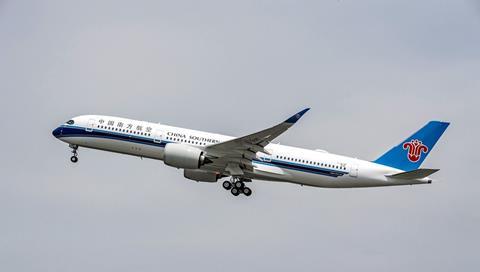 The two carriers also saw RPKs and ASKs hit a new high for the year, although figures were still marginally lower compared to August last year.
China Eastern carried 8.5 million domestic passengers for the month — 2.5% higher than January's 8.3 million. Month on month, it is a 18.2% increase, although the figure is about 15% lower year on year.
Overall, China Eastern carried 8.55 million passengers across its network, a year-on-year decline of about 28% that was led by a collapse in international travel demand.
Domestic RPKs grew 16.4% month on month, but slid about 15% year on year. Similarly, ASKs for the domestic network grew about 15% compared to July, even as it was a marginal 0.8% decrease year on year.
China Southern, meanwhile, carried 10.3 million domestic passengers, which was 8% higher than in January. The figure represents a 14.3% increase month on month, but was about 16% lower than last year's numbers.
As with China Eastern, the Guangzhou-based carrier's international passenger traffic remained depressed, at about 73,500 passengers. Overall, it carried about 10.33 million passengers.
Domestic RPKs grew 14% month on month, but declined 21% compared to 2019. ASKs increased nearly 13% compared to July, but saw a year-on-year drop of 7.3%.
As for Air China, it carried 7.27 million domestic passengers in August. While not the highest since the start of the year, it was marginally lower — at about 0.9% — compared to January's previous high of 7.33 million.
August's domestic passenger numbers represent a 25% month-on-month increase, but was 14.2% lower compared to 2019.
Overall, Air China carried 7.32 million passengers across it network for the month, about 30% lower year on year.
Domestic RPKs grew nearly 26% month on month, but saw a 17% decline year on year. ASKs for the domestic network saw a month-on-month increase of 22.7%, but were 3.4% lower compared to August 2019.
Chinese carriers have seen steady improvement in domestic passenger traffic numbers in recent months, after authorities announced that the coronavirus outbreak — which originated in the country — has been brought under control.
Several carriers, including China Eastern and China Southern, have doled out steep discounts on domestic flights, in hopes of stimulating travel demand within the country.