Gulf Air may be one of the Middle East's oldest airlines – it celebrated its 70th birthday in 2020 – but its days of being the region's largest and best-known operator are far behind it.
Until early this century, it was a flag-carrier for four countries. However, when Abu Dhabi, Qatar and Oman decided to bet all chips on their own audacious start-ups and quit the partnership, it left Gulf Air as the national airline of its sole remaining shareholder, Bahrain.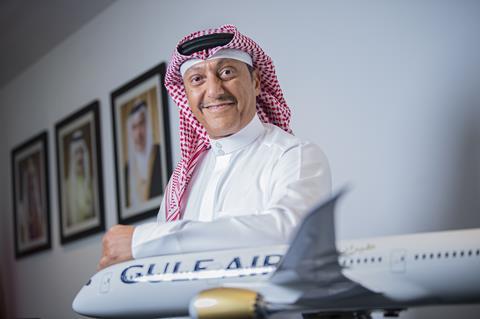 Since then, Gulf Air has struggled at times to find its niche. While Bahrain is an important centre for financial services and commerce, and it has a growing tourism sector, its population of just 1.5 million gives it a modest home market. For a long time after the split with its former partners, it appeared unsure whether to try to retain its status as a hub airline, competing against three well-funded global connectors on its doorstep, or to settle for being a domestic player.
However, new chief executive Capt Waleed Al Alawi is convinced that after a strategic rethink and fleet refresh, begun under his predecessor Kresimir Kucko, Gulf Air is emerging from the disruption of the pandemic with a robust, hybrid business model. The former pilot describes Gulf Air as a "boutique" airline, and believes the airline's at least twice-daily connections within the region as well as to London and Istanbul, a modern fleet, and a strong offer to customers, particularly in premium, set it apart. "We see ourselves as small, personal, and effective," he says.
Although Emirates, Etihad and Qatar Airways have long eclipsed it in terms of size, the 72-year-old brand remains a force, with a growing fleet of 36 aircraft, operating to Europe and Asia-Pacific, as well as within the Middle East. The airline's route strategy, is "about making the right choices", says Al Alawi – who won promotion to the top job in October after two years of filling the role on an acting basis, and was previously Kucko's deputy.
MEASURED NETWORK
Because Gulf Air cannot compete with the network of the big three, it has had to be highly measured with its choice of destinations. As well as the largest cities of the UK and Turkey, the carrier serves Bangkok, Manila and the Maldives daily, and Rome and Milan five times weekly. It recently added Malaga, Manchester, Singapore and Tel Aviv. The latter was made possible on the back of 2020's Abraham Accords, which established diplomatic relations between Israel and a number of Arab countries.
A key selling point of Gulf Air's offer, says Al Alawi, is its schedule to regional capitals, with up to nine daily flights to Dubai, as well as Abu Dhabi, where it has recently expanded a codeshare with Etihad. Under the "strategic commercial cooperation agreement", signed in 2021, and built on a 2018 memorandum of understanding, the airlines added another 30 combined destinations beyond their hubs, in the Middle East, Africa, Europe and Asia.
In addition, Gulf Air – which is a subsidiary of state investment house Mumtalakat, under whose ownership Bahrain Airport Company and Gulf Aviation Academy also sit – flies two or three times a day to Jordanian and Egyptian capitals Amman and Cairo. Business travellers on short trips are a crucial demographic for the airline. However, three in five of its passengers connect through Bahrain, indicating that the hub connector part of the model is still intact.
A major gap in Gulf Air's network map is the USA. Before the pandemic Kucko had stated he hoped to start direct services in two or three years. Post-Covid, that ambition is still on the cards, with Al Alawi saying Gulf Air intends to launch transatlantic flights next summer depending on regulatory approval. Al Alawi will not disclose potential destinations but says the airline would look to codeshare with a US major. No US airlines fly to Bahrain, but the leading European members of the three major alliances – British Airways, KLM and Lufthansa – do.
Al Alawi says the business model is proving successful, based on traffic figures since the Covid-19 crisis ended. After performing strongly in cargo during the pandemic, Gulf Air's passenger traffic rebounded strongly from February this year, reaching a load factor of more than 85% during the summer. "We saw that people just wanted to travel again," says Al Alawi, who rejoined Gulf Air in 2017 after 18 years with the Bahrain Royal Flight.
A major factor behind Al Alawi's confidence in Gulf Air's future is Bahrain's impressive new airport terminal, which opened in January 2021 after almost five years of construction. It replaced a now demolished rather tired and congested 1970s predecessor, which was operating pre-pandemic at more than twice its original design capacity of four million passengers. The new building is more than four times its size.
With Gulf Air representing about 60% of traffic at the airport, it has allowed the airline to improve its service to passengers, especially frequent flyers. Its Falcon lounge is three times bigger than the facility in the old terminal, and includes an outdoor terrace. There is room for 400 passengers at any time. With four times as many air bridge gates, Gulf Air is unlikely to have to bus passengers to stands – a regular occurrence at the former terminal. There is also much more room at check-in, security and baggage reclaim.
On 28 January last year, Gulf Air operated the first flight from the new terminal, an Airbus A320neo to New Delhi, and – a few hours earlier – the final flight from its predecessor, to Dubai and using the same type. A Gulf Air Boeing 787-9 from Lahore was also the first to land at the new facility.
COMPLETING FLEET OVERHAUL
Gulf Air is in the final stages of a massive fleet revamp, having replaced its ageing A330s with Boeing 787-9s – it has seven in service with three on order – and its A320ceo family aircraft with CFM Leap-powered A320neos and A321LRs. It currently has four A321LRs and six A320neos. A further eight and 11 respectively are due to be delivered by 2027. It is phasing out its remaining 16 older generation A320 family aircraft.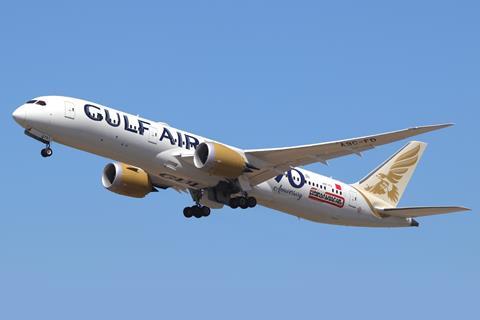 Al Alawi describes the A321LRs in particular as "an amazing product" with 16 full lie-flat seats in business, as well as 150 in economy, that allow the airline to operate the narrowbody on mid-haul routes to the likes of Frankfurt, the Maldives, Milan, Nice, Paris and Rome. Its A320neos are configured with 136 or 150 seats, with a higher density 196-seat version to join the fleet. Although Gulf Air unveiled a new brand identity at the Bahrain Grand Prix in 2018, one of the A321s and a 787 will retain a legacy livery to "connect us to our heritage", says Al Alawi.
He is proud of the fact the airline did not stop during the pandemic, repatriating foreign citizens stranded when their original carrier stopped flying, and operating all-cargo and humanitarian services, including collecting personal protective equipment (PPE) from China. "The repatriation flights put us on the map as an airline that looked after people. Countries thanked us," says Al Alawi.
The fact that Bahrain is dependent on imports for almost all of its food was another reason Gulf Air had to continue flying, converting some of its aircraft to "preighters" by removing seats from the main cabin. Even the causeway linking the island nation to Saudi Arabia was shut for a while, preventing trucks crossing. "We helped Bahrain import six months of food supplies," says Al Alawi.
One time, near the start of the pandemic, Al Alawi – who began his career with Gulf Air as a cadet pilot in 1980 before becoming a training captain – joined three other volunteer pilots and a team of cabin attendants to fly to China to collect PPE. With no local handlers to help, Al Alawi and his makeshift crew spent four and a half hours loading the 787 themselves, before returning to Bahrain.
He says the episode epitomised the team spirit of his staff, and the status of Gulf Air in Bahrain's social fabric. "The whole mission took almost 24 hours," he recalls. "But, for me, it was a case of leading by example. It showed that, as well as being a boutique airline, we are an airline that looks after our nation."