MTU Aero Engines is maintaining its backing for a liquid hydrogen fuel cell powertrain that could equip commuter or regional aircraft entering service in the mid-2030s.
Speaking at last week's Paris air show, chief executive Lars Wagner said that to achieve zero-emission flights "we believe that fuel cells are the right technology going forward".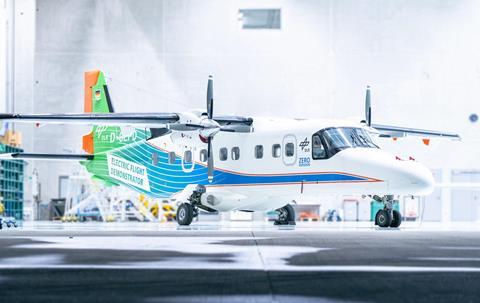 MTU is already working with Germany's DLR aerospace research institute to demonstrate a fuel cell powertrain aboard a modified 19-seat Dornier 228 that could fly by the middle of the decade.
But Wagner sees the "sweet spot" for a fuel cell propulsion system as powering an aircraft with 100 seats capable of flying routes of up to 1,000nm (1,850km). Such an aircraft could become available from around 2050.
Recently recruited to the Do 228 project was Augsburg-based MT Aerospace, which will work with MTU to jointly develop a liquid hydrogen fuel system, testing of which is to begin later this year.
Additionally, recent MTU acquisition eMoSys is to supply a 600kW electric motor for the modification effort.
Wagner stresses, however, that the conversion project – which will see one of the Dornier's two Honeywell TPE331 engines replaced by the hydrogen powertrain – is seen purely as a demonstrator.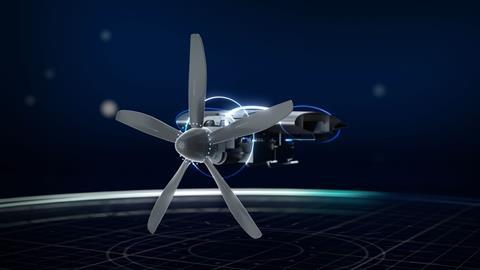 "We will test it out and see the capabilities of the fuel cell and the stacks and then scale it upwards," he says.
"As you know, there's no product available today, and there's no customer or airframer signed up for the fuel cells."
While MTU views the hydrogen-electric powertrain as "a promising technology", Wagner says years of research and testing will be needed to prove such a system is both feasible and certifiable.
In addition, an airframer will be needed, because "you cannot just replace the turboprop motor [in an existing aircraft] and put a fuel cell in – ideally you need a clean-sheet design".
Wagner sees a 1,000nm-range, 100-seater as the upper end of what fuel cells could power, due to the limitations imposed by hydrogen storage.
"It's challenging enough to bring it up to a 100-seater," he says. "In my view [each step grows by] 20 seats, so you need a 20-, 40-, 60-, 80-seater."

Dominic Perry is deputy editor of Flight International but also contributes extensively to flightglobal.com. Although specialising in the coverage of the helicopter industry, he has written on most topics in aerospace – be they commercial, defence or business aviation. In addition, there has been an increasing focus on the decarbonisation of the industry and zero-emission flight initiatives.
View full Profile