New Zealand has allowed the Boeing 737 Max to resume flying into the country, effectively lifting the two-year grounding imposed on the troubled type.
The Civil Aviation Authority (CAA) of New Zealand states that the move, which follows a "comprehensive safety review", will apply to Fiji Airways, which plans to operate the type into New Zealand.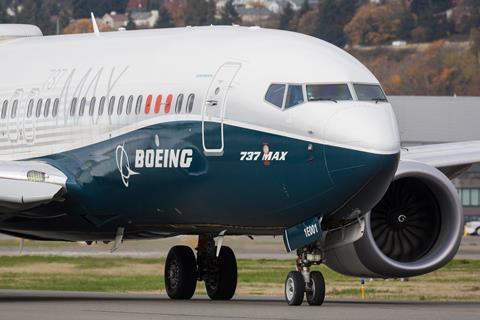 The initial approval will apply to two of the carrier's five 737 Max 8s, which had already joined its fleet at the time of the type's grounding in March 2019. Fiji's three other Max aircraft will "also be subject to CAA scrutiny" before being allowed to operate.
Fiji Airways has not scheduled the 737 Max for operations into New Zealand, as border restrictions to curb the spread of the coronavirus mean that regular flights are non-existent now.
There are currently no other airlines that operate, or plan to operate, the 737 Max into New Zealand.
CAA deputy chief executive David Harrison says his agency has been working with its Fijian counterparts on returning the type into service. He adds: "We have thoroughly and independently reviewed the work undertaken by Fiji Airways to bring their 737 Max aircraft back into service and are confident these aircraft are safe to return to operation."
The agency's latest announcement comes more than three months after it first voiced its support for the global ungrounding of the 737 Max. The CAA, however, stopped short of lifting the flight ban, stating in February that it was working with Fiji Airways on allowing the aircraft back into New Zealand airspace.
Neighbouring Australia was the first in Asia-Pacific to lift the 737 Max flight ban in February, after a global grounding following two fatal accidents in 2018 and 2019. Regulators in North America and Europe have already cleared the type to resume flying.