Russian airframer Irkut is preparing to conduct test flights with an MC-21-300 whose engines are being swapped from foreign-built to domestically-built powerplants.
The aircraft, number 73051, was originally an MC-21-300 variant fitted with Pratt & Whitney PW1400G engines.
But Russian state technology firm Rostec says the aircraft will be tested "in the near future" with "domestic engines", which indicates it will retrofit the twinjet with Aviadvigatel PD-14s.
Rostec has disclosed the plans as it pursues a design-change programme which centres on replacing the PW1400G with the PD-14.
The PD-14 was developed as an alternative customer option to the Pratt & Whitney engine but international sanctions on the Russian aerospace industry mean the PD-14 is effectively the only powerplant candidate.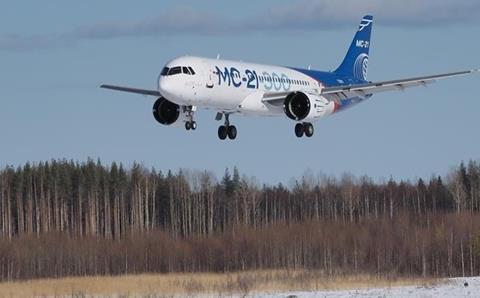 Certification testing of the MC-21-310, the variant which uses the PD-14, has continued at the Gromov flight institute near Moscow.
Rostec says the flight-test airframe, number 73055, has conducted 100 sorties. Irkut has been provided with five PD-14 powerplants with which to carry out the test programme.
Aircraft 73055 has been undergoing flight tests since first becoming airborne in mid-December 2020.
Some 240 flights – undertaken by two aircraft – are planned for the certification effort, says Rostec first deputy general director Vladimir Artyakov.
He says the certification is "proceeding according to plan" and believes the MC-21 will be a "worthy replacement" for foreign aircraft types.
Irkut says the PD-14 tests include hydraulic, electrical and air-conditioning analysis, as well as single-engine flight performance during various phases from take-off to landing.
It states that flights with the PD-14 provide an opportunity to develop "optimal" operating modes for the powerplant, and explore paths to improve weight and fuel efficiency.