Airline and cockpit crew representatives have condemned indications by UK prime minister Boris Johnson that he is prepared to introduce quarantine measures for inbound passengers to the UK.
Johnson spoke on 10 May, outlining "conditional" steps towards easing the lockdown imposed on the country in March following the coronavirus outbreak.
"To prevent re-infection from abroad, I'm serving notice that it will soon be the time – with transmission significantly lower – to impose quarantine on people coming into this country by air," he said.
Johnson added that the government would "not hesitate to put on the brakes" if the situation deteriorated.
Carrier association Airlines UK and pilots' union BALPA, however, have sharply criticised the possible introduction of a 14-day quarantine requirement.
"We all, including government, need to adapt to the 'new normal'," says Airlines UK chief Tim Alderslade. "But closing off air travel in this way is not the way to achieve this.
"Ministers are effectively telling people they can no longer travel for the foreseeable future and airlines will respond to that by grounding their operations."
BALPA has expressed scepticism over the mooted quarantine of passengers, adding that it has seen neither the scientific basis for the proposal nor any risk assessment for crews' health.
The commercial impact, like other aspects of the proposition, "have not been thoroughly thought through", it adds.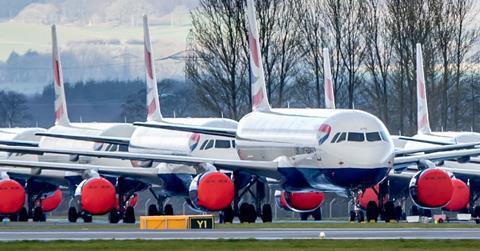 BALPA general secretary Brian Strutton says the union is seeking details on the government's plan for commercial aviation, saying there are "too many open questions" and a quarantine proposal will "put even more pressure on the industry".
Airlines UK has been urging government support for the industry including extension of job-retention initiatives and deferral of air passenger duty, air navigation charges, and other fees.
The Board of Airline Representatives in the UK, which represents carriers serving the country, says a considered plan would need to replace any quarantine measure.
"Flying can only recommence in any meaningful way once the 14-day self-isolation requirement is superseded by a carefully co-ordinated and internationally-harmonised approach," says BAR UK chief executive Dale Keller.
Such an approach, he says, would incorporate a series of "multi-layered and more effective measures" to target and mitigate risk and provide "the confidence that flying is safe".