A little over six months since first running its UltraFan demonstrator, Rolls-Royce has now taken the next-generation, ultra-high-bypass engine to full power – and even beyond.
Designed as an 80,000lb (355kN)-thrust engine, Rolls-Royce says the powerplant surpassed that level, achieving at least 85,000lb-thrust in maximum power tests completed in the first days of November.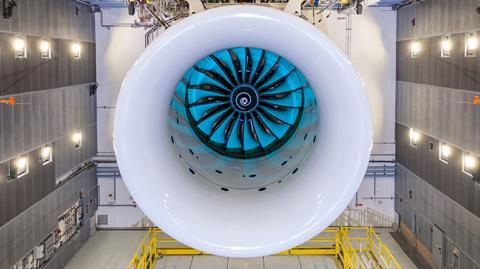 Rolls-Royce says the new engine architecture will be capable of delivering a 10% fuel-burn improvement over its Trent XWB, and a 25% gain over the first generation Trent engines.
In addition, the propulsion specialist is eyeing the potential of the advanced technologies deployed in the engine – notably the high-temperature materials – to be inserted into its in-production engines to boost performance.
Tufan Erginbilgic, Rolls-Royce chief executive, says: "This fantastic milestone puts us in a strong position to support the plans of our customers as they develop the next generation of super-efficient aircraft."
Since first running the UltraFan on 24 April, Rolls-Royce has progressively taken the engine to higher output levels. It has now accumulated over 70h of run time and has completed key test points including maximum acceleration.
Performance has been "in line with expectations" which "reinforces our confidence in the suite of technologies that has been developed as part of the UltraFan programme".
It now plans to conduct detailed inspections of the engine. However, it is unclear for how much longer the test phase will continue.
At an event in May to celebrate the first engine run, Erginbilgic said tests of the demonstrator would carry on for several months before being halted as it waits for airframer interest in a new powerplant to emerge.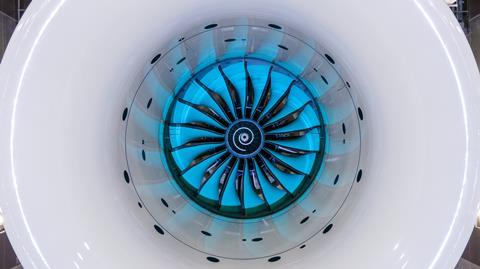 The UltraFan's geared-fan architecture is a major departure from Rolls-Royce's traditional three-spool widebody engine configuration and features a 14:1 bypass ratio.
Also incorporated in the UltraFan are carbon-titanium fan blades, a new low-emission combustor, and high-temperature materials and components.
Rolls-Royce says the UltraFan's technology scales from 25,000-110,000lb thrust also offers the potential to power the new narrowbody and widebody aircraft anticipated in the 2030s.
Meanwhile, Rolls-Royce has successfully completed compatibility testing of 100% sustainable aviation fuel (SAF) on all its in-production civil aero-engine types.
This fulfils a commitment, made in 2021, to demonstrate there are no engine technology barriers to the use of 100% SAF.
A ground test on a BR710 business jet engine at the company's facility in Canada, completed the test regime.
Other powerplants evaluated as part of the programme were: Trent 700, Trent 800, Trent 900, Trent 1000, both version of the Trent XWB, and the Trent 7000, plus the BR725, Pearl 700, Pearl 15 and Pearl 10X business jet engines.

Dominic Perry is deputy editor of Flight International but also contributes extensively to flightglobal.com. Although specialising in the coverage of the helicopter industry, he has written on most topics in aerospace – be they commercial, defence or business aviation. In addition, there has been an increasing focus on the decarbonisation of the industry and zero-emission flight initiatives.
View full Profile