Only increased production of sustainable aviation fuel (SAF) and reintroduction of turboprops in place of jets, plus incentives to speed retirement of older gas guzzlers, will help commercial aviation reach its decarbonisation goals in the short term, a new white paper argues.
Published by Germany-based Sustainable Aero Lab, the report - Bridging the Gap to 2050: How to Decarbonize Aviation Faster With Today's Technologies ­– says the industry cannot wait until the arrival of hybrid- or hydrogen-powered aircraft at some point in the future to start addressing its climate impact.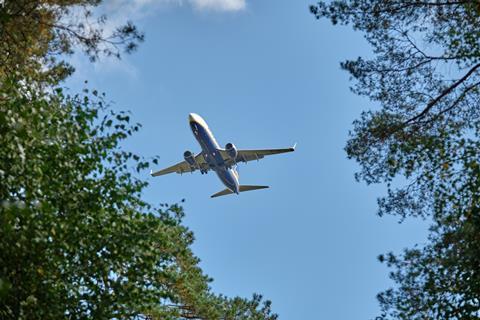 With passenger numbers set to increase, at least doubling by 2040 according to IATA forecasts, and other industries reducing their greenhouse gas outputs more quickly, aviation will see its share of global emissions increase, the report notes.
"As the world's societies – especially Generation Z entering adulthood – become increasingly aware of climate change, emissions will become less socially acceptable," it says. "Unless we significantly decarbonise aviation and do this quickly, its current operating model will eventually become a dead end."
Although electrification and hydrogen – which the report describes as "moonshot" projects – may offer longer-term benefits, it suggests they "will not bring any significant leverage in the next 20 years".
Those new propulsion technologies – which will either enter service on smaller regional aircraft or not arrive until at least 2035 – will not address the 96% share of aviation's emissions which are produced by aircraft with 100-plus seats.
With the aviation industry's goal to reach net-zero by 2050, and factoring in the typical 25-year lifespan of commercial aircraft, the report points out that "it is easy to see that the aircraft models already operating today will also make up the dominant part of the global fleet by 2050".
While those newer aircraft will offer some benefits through being more fuel efficient than those they are replacing, the white paper points out that any such gains will be quickly consumed by the predicted rises in global fleet size and passenger numbers.
It has identified three pathways to drive down aviation emissions over the next 20 years: accelerate introduction of SAF, reintroduce more turboprops and create a clear regulatory framework for fleet renewals.
Scaling SAF production, it says, is "the most critical lever to lower commercial aviation emissions until 2050". Initially this should concentrate on the production of HEFA – fuel made from oils and fats – "and work to mature the others as quickly as possible".
But the increase in production needs to be incentivised, including by raising SAF quotas, to help drive down its price relative to conventional jet fuel.
Boosting SAF output has featured in many decarbonisation strategies, but the suggestion that aviation can tackle its carbon emissions through reintroducing turboprops is sure to raise eyebrows.
The paper insists this would be a viable pathway: "With the comfort levels that modern turboprops can offer and potential faster travel times for distances up to 600km [324nm] due to more optimal flight routes, there is an obvious benefit in building new turboprop designs with the most modern conventional engines and larger seat capacity, drastically reducing emissions compared to the smallest jets," it argues.
Replacing uneconomical jets on regional and short-haul routes "is a target achievable by mid-of-this decade", it adds.
Additionally, to persuade operators to switch to newer-generation aircraft, governments should limit fuel consumption per seat mile "forcing older planes out of the skies". A similar carbon limit per tonne could be applied to freighters.
Other incentives could be implemented to "nudge" airlines towards refleeting, the white paper suggests.
And while it is sceptical of the decarbonisation benefits of new propulsion systems in the short term, the report dismisses outright the potential for the electric vertical take-off and landing (eVTOL) industry to contribute to aviation's climate goals, going so far as to describe funding aircraft with a range below 100km as a "distraction".
"eVTOLs do not decarbonise commercial aviation. They are an incremental activity, as they will replace no commercial aircraft from Airbus, Boeing or other existing manufacturers," it says.
Despite the white paper's largely common-sense approach, its findings may generarate accusations of a conflict of interest for one its authors, Nico Buchholz.
A veteran of Bombardier, Lufthansa and others, Buchholz is currently chief commercial officer at Deutsche Aircraft, a German manufacturer attempting to bring to market the D328eco – a SAF-powered turboprop.

Dominic Perry is deputy editor of Flight International but also contributes extensively to flightglobal.com. Although specialising in the coverage of the helicopter industry, he has written on most topics in aerospace – be they commercial, defence or business aviation. In addition, there has been an increasing focus on the decarbonisation of the industry and zero-emission flight initiatives.