UK government regulators are to explore the options for developing a long-term night-flights policy for London's main airports, as part of a consultation which also seeks views on extending the current regime.
The air transport crisis, and the uncertainty over knock-on effects, has spurred the government to propose extending current night-flight restrictions at London Heathrow, Gatwick and Stansted for another two years – meaning they will remain in effect until October 2024.
But the crisis has resulted in airlines withdrawing larger, noiser aircraft – notably the Boeing 747-400 – from schedules, and the government is running a parallel consultation on placing an operational ban on such aircraft during night hours, from 23:30-06:00.
The aircraft affected would be those which are categorised as 'QC4' under the airports' quota-count system.
"We believe the impacts to the industry of this ban will be minimal, but it will have a benefit to communities that are overflown by ensuring these noisier aircraft movements cannot take place in the night quota period in future," says the UK Department for Transport.
As part of the consultation, the Department for Transport is inviting comments on the effectiveness of the quota-count system, although it believes it remains the best mechanism for limiting noise at the airports.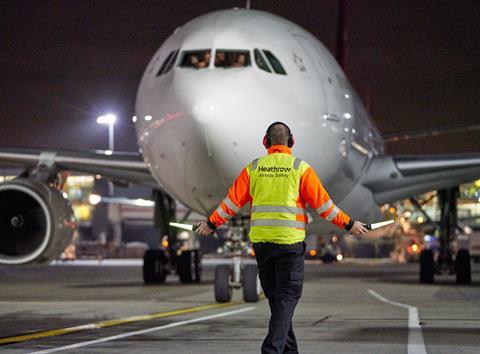 While the three-month consultation has focused on the two years to 2024, the government is also looking to rethink its night-flights policies at the London airports, and nationally, beyond this date.
Night-flight regimes, it says, have historically been imposed for period of up to five years. The current one runs to October 2022.
"We are aware that some stakeholders have indicated that this does not allow for long-term planning," it states, adding that it is seeking opinions on whether a post-2024 regime should be much longer, perhaps more than 10 years.
Its consultation also includes looking at whether national noise policy should be amended to include a specific policy for night noise, and whether dispensation guidance for night flights should be revised, as well as options for reshaping future night-flight criteria.