The US Senate passed an economic stimulus bill designed to support workers and industries, including the airline sector, after the global coronavirus crisis ravaged the economy in past weeks.
The Coronavirus Aid, Relief, and Economic Security Act, which the Senate approved late on 25 March, includes provisions for passenger and cargo airlines, general aviation, as well as air transport-related employees and contractors who fear for their livelihoods after demand for air travel dropped as the pandemic spread around the world.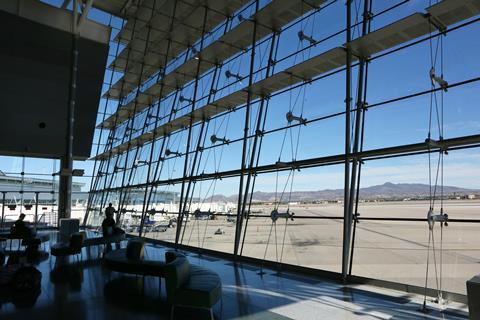 It includes loans to passenger airlines and related businesses ($25 billion), cargo airlines ($4 billion) and business "critical to maintaining national security" ($17 billion).
Aside from loans, the Senate will provide "payroll support" to the tune of another $29 billion for passenger and cargo airlines, and $3 billion for contractors like baggage handlers and catering workers. This money must be used for wages, benefits and health care, the official adds.
Airports will also be supported with an additional $10 billion, with $100 million going specifically to smaller general aviation airports. The document also provides relief from excise taxes for general aviation commercial operations.
The House of Representatives, the second chamber of the US legislature, will discuss the bill on Friday and is expected to pass it as well. It would then go to President Donald Trump, who can sign it into law.
Aviation-related industry groups welcomed the deal, even if it did not include everything they requested.
"We applaud the administration and the US Congress for reaching agreement on bipartisan legislation intended to assist the US airline industry" and its workers, Airlines for America (A4A), a lobby group representing 11 of the largest passenger and cargo carriers in North America, says in a statement on 26 March.
The organisation was looking for interest-free loans and grants to help members manage their cash flow through the crisis. What they got were loans and "direct payroll assistance".
The Senate bill mentions interest-bearing loans and equity stakes in companies that receive aid.
Analysts say it is also unclear as to how the altogether $2 trillion package will be managed and the funds disbursed.
"We still don't know the details of the mechanism of the aid," says Richard Aboulafia of Teal Group on a webinar on 26 March. "To what extent is the government going to take charge of allocating the cash?"
But Mike Boyd, of Boyd Group International, says that while the bill is a good first step, it will not provide the one thing the airlines need right now - people to be flying.
"Airlines are flying empty airplanes – load factors in the teens or lower - and this relief programme is only going to extend the amount of time before the industry has to ground itself," he writes in a note. "A total or nearly-total temporary shutdown is in the cards… regardless of what Congress wants. Soon."
General aviation interest groups applauded the measure, saying their members, which include hundreds of air transport-related smaller businesses such as flight schools, business jet charters and mechanics shops, are relieved they will be able to get government support quickly.
"We appreciate that this bill includes measures specifically aimed at general aviation," says James Viola, president and chief executive of Helicopter Association International (HAI). "The loans, grants, and tax relief provisions of this bill can directly benefit many of HAI's members, especially our numerous small businesses."
National Business Aviation Association CEO Ed Bolen adds, "On balance, this bill is helpful for general aviation. The industry clearly made its voice heard in ensuring that the important provisions for general aviation airports, general aviation commercial operators and other small businesses were considered as this legislation was assembled, and we look forward to the bill's passage into law."