Dubai helicopter operator Air Chateau has signalled its intention to possibly acquire a fleet of electric air taxis from Archer Aviation.
Air Chateau agreed to pay a $1 million deposit by year-end under an agreement covering the potential purchase of 100 of Archer's in-development electric take-off and landing aircraft, called Midnight, Archer says on 16 November.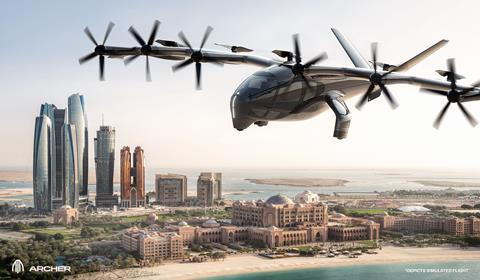 California-based Archer, which hopes to have Midnight certificated and flying passengers in 2025, and Air Chateau agreed to the terms under a memorandum of understanding signed the same day at the Dubai air show.
The deal has a potential value of $500 million.
"The two companies will now work to formalise definitive agreements covering the planned purchase over the coming months, with additional pre-delivery payments of $4 million contemplated to be paid following signing," Archer says.
"The strategic relationship is intended to further strengthen Archer's recently announced plans to commence air taxi operations in both Abu Dhabi and Dubai in 2026," it adds.
Air Chateau operates from a helicopter terminal at Al Maktoum International Airport, offering corporate charters and tourist flights. Its fleet includes an Airbus Helicopters H125, according to Cirium data.
During the Dubai air show Archer expressed optimism about its plan to have its air taxis flying between Dubai and Abu Dhabi in 2026.