Airbus has disclosed that it will take a provision of €3.6 billion ($4 billion) to cover penalty payments following its preliminary agreements to settle investigations by three states into alleged corruption in its activities.
The agreements in principle centre on probes by UK, French and US regulators and remain subject to court approval, says Airbus.
It states that the agreement with UK authorities has been the subject of a preliminary court ruling on 28 January, while further court hearings in the UK, France and USA are expected on 31 January.
The €3.6 billion provision, which will be booked in Airbus's accounts for 2019, will depend on the agreements securing court approval.
"Further details will be provided once the agreements have been finalised," says the airframer.
Concerns had emerged in early 2016 over Airbus applications for export credit, which the airframer had voluntarily flagged to UK Export Finance. The finance agency suspended consideration of export credit requests from Airbus and referred the concerns to the UK's Serious Fraud Office.
Airbus was subsequently placed under investigation by the Serious Fraud Office, over allegations of corruption centred on irregularities regarding third-party consultants.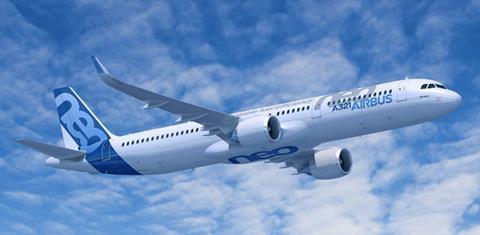 Pressure on the airframer increased over the following year as the French judicial institution Parquet National Financier joined the UK fraud investigation, similarly looking into third-party consultant activity and alleged bribery.
Airbus also found itself scrutinised in 2017 by a separate US probe into defence contracts, after a review of compliance procedures turned up "inaccuracies" and "shortcomings", the company said, in filings to the US Department of State.
The problems were linked to the US rules contained in its International Traffic in Arms Regulations, particularly the section addressing disclosure of fees and commission.
Airbus stresses that it has co-operated with all the investigative parties involved.
In 2018 the company reached an €81 million agreement to end a European defence investigation from German prosecutors into allegations of corruption relating to the sale of fighters to Austria in 2003.
While Airbus appeared unaffected by the absence of export credit in a relatively buoyant financial environment, the manufacturer was aware of the perception that the investigations generated.
Its senior management moved to reinforce its compliance oversight by establishing an independent review panel with representatives from France, Germany and the UK.
Then-chief executive Tom Enders said at the time that the company needed to take a "hard look" at its systems and cultures in order to "embed irreproachable behaviours" in its activities.
Airbus also opted to recruit a number of external candidates to the most senior positions, as various board members retired, a step intended to underpin the impression of transparency.