Some analysts read recent comments by Boeing officials as suggesting that 737 Max deliveries are progressing slower than predicted and that Boeing will retain a large inventory of undelivered jets into 2024.
"It became clear during [the third quarter] that Boeing's plan to eliminate the bulk of its Max inventory by [year-end 2022] was no longer realistic," says JP Morgan in a 1 November research note. "[Management] has now pushed this to [year-end 2023], implying at least a portion will remain into 2024."
Another financial firm, Jefferies, estimates Boeing will enter 2024 with a stockpile of 100 undelivered 737 Max.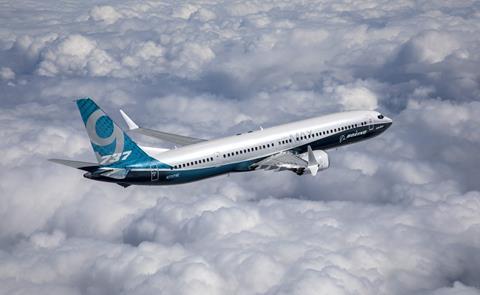 During Boeing's 27 October earnings call, the Chicago airframer's chief financial officer Brian West said Boeing's inventory of undelivered Max stood at 370 jets.
"Given demand, we anticipate delivering most by the end of 2023," West said. "This assumes we resume deliveries to our customers in China during the first-quarter of 2022."
China has not yet lifted the Max's grounding, though Boeing has suggested that approval could come before year-end.
During the same earnings call, Boeing chief executive David Calhoun cited another Max inventory figure. He said Boeing has delivered "about one-third of the 450 airplanes originally in inventory". That equates to about 150 deliveries, and 300 of those jets still in inventory.
Boeing clarifies to FlightGlobal that West and Calhoun were referring to different groups of undelivered 737 Max.
The 450 figure is familiar, having been cited by Boeing executives numerous times since mid-2020. Previously, executives predicted Boeing would deliver the majority of the 450 jets by the end of 2022.
But Boeing clarifies that the 450 figure includes only jets produced before the company temporarily halted 737 Max production in December 2019. The production pause came about nine months after regulators grounded the jet, in March 2019. Boeing resumed production in May 2020.
The 370 group cited by West, however, includes both the undelivered part of the 450 aircraft – seemingly about 300 jets, based on Calhoun's comments – plus aircraft manufactured after Boeing resumed production in May 2020. That means Boeing had been both delivering stored jets and adding newly produced jets to the inventory.
In explaining the figures, Boeing notes that its deliveries depend on various factors, including the pandemic's impact on carriers and country-specific Max approvals. Analysts have noted that a large portion of the undelivered jets – one-third, according to JP Morgan – are awaiting delivery to airlines in China.
"Deliveries are slower than expected," says JP Morgan's 1 November research note. "Max inventory [is] likely to persist into 2024."
The financial firm expects Boeing will have about 150 Max in its inventory in 2024.
RAMPING PRODUCTION
Also on 27 October, Calhoun stressed that Boeing still intends, per an earlier plan, to ramp-up 737 production from a current rate of 19 jets monthly to 31 monthly by early 2022.
Financial firm Jefferies thinks demand early next year will be insufficient to justify rate-31; at that rate, Boeing might be forced to add more jets to its inventory, the financial firm says in a 31 October research note.
For those reasons, Jefferies suspects Boeing will delay its increase to rate-31 until the fourth quarter of 2022, "to allow for inventory drawdown", the note says.
In the first nine months of 2021, Boeing delivered 169 737 Max. That equates to an average monthly rate of 19 aircraft, though in some months the company has delivered significantly more. In September, for instance, Boeing handed over 27 737 Max, according to its figures.