More small aerospace suppliers could fail under economy pressure as the aerospace industry recovers from the Covid-19 pandemic.
Aerospace analysts are warning about such failures, noting that rising interest rates and labour costs are hitting suppliers at time they need cash to expand.
Small companies are also facing the end of economic assistance plans.
"We believe there are going to be more failures on the ramp up than there [were] on the ramp down," Kevin Michaels, managing director of consultancy AeroDynamic Advisory, said on 7 September.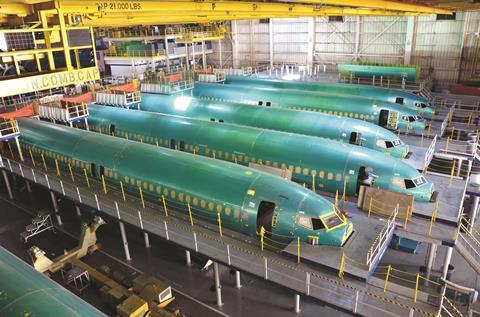 Most at risk are "small- and medium-sized enterprises", known in the aerospace industry as "sub-tier suppliers", Michaels adds.
Alex Krutz, managing director at aerospace and defence advisory Patriot Industrial Partners, foresees the same, saying small companies will have more difficulty accessing capital needed to grow.
Suppliers are under incredible pressure to ramp up as Airbus and Boeing seek to boost production on their narrowbody aircraft. Those aircraft manufacturers have repeatedly stressed that supply shortages are holding them back.
The market dynamic has left suppliers seeking to conserve cash at the same time they need more money to expand, says Michaels. "It's going to be very difficult for a lot of suppliers to achieve this."
During the pandemic, many aerospace suppliers were buoyed by cash injections from pandemic-related US government programmes. Many, including "small key suppliers", also received economic assistant in the form of advanced payments from companies higher up on the supply chain, such as engine makers and aerostructures manufacturers, Krutz notes.
Those firms provided advances so their smaller partners could afford to acquire materials needed to increase production.
But eventually, those advance payments will stop, if they have not already. When that happens, smaller firms might need to weather a period of significantly reduced revenue, Krutz says.
Firms can seek other financing, such as from banks, but interest rates are on the rise and financial institutions have lately grown more cautious about lending cash to riskier businesses, he adds.
Numerous small suppliers exited the aerospace business amid the pandemic, though hard numbers are difficult to come by. Still, the failures were sufficient to "cause some of the bigger companies pain in sourcing components", Krutz says.
The problem led Bombardier earlier this year to acquire Schrillo Company, a financially struggling California firm that supplied a component for the wings of Bombardier's Global 7500 business jet, the aircraft manufacturer says.
Bombardier bought Schrillo – including its machinery, intellectual property and inventory – to head off a parts shortage. It also took on Schrillo's staff, Bombardier says.