Aerospace and defence giant BAE Systems is the latest firm to throw its considerable technical expertise behind development of products for a potentially lucrative new class of aircraft.
The UK-headquartered firm is designing a new class of flight-control and energy-management systems for the burgeoning hybrid- and all-electric aircraft segments. But while it is starting small, it has big ambitions.
Leading the charge are engineers based at the company's Endicott, New York facility, who see their systems taken up by a new breed of aircraft in the coming years.
"We expect to have products ready as early as next year, with [entry into service] in the 2023-2025 timeframe," says Mark Drechsler, director of business development for controls and avionics. "We are going to have demos for the energy management and controls in 18-24 months."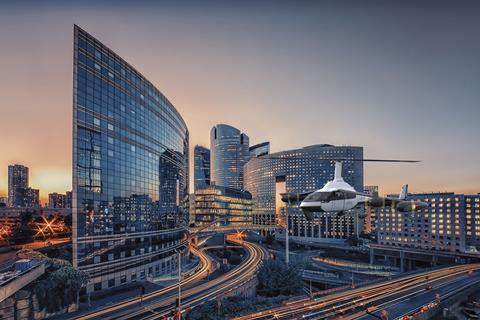 Initially, BAE expects its flight-control, energy-management and power-conversion systems will be integrated into small aircraft like air taxis and other electric vertical take-off and landing (eVTOL) aircraft. Such aircraft fit within the urban air mobility (UAM) concept – a vision that involves fleets of air taxis transporting passengers across city skies.
But BAE is looking far beyond eVTOL aircraft by making sure its next-generation products are scalable; the core technologies will be able to be integrated on a range of future aircraft, including larger passenger types.
"There will be common elements – but you have to scale it," says Brian Hull, BAE's engineering director for strategic development in the company's controls and avionics business. "If you understand how the systems work and where you need to put the design rigor, then you can come up with those common elements, and make sure they talk in a consistent way no matter the applications."
Industry experts expect years or decades may pass before battery technology improves sufficiently to make large electric jetliners viable. But UAM companies are moving much faster, with plans to certificate small electric-powered aircraft in the coming years.
"If you have a common set of products… you can minimise the change that happens between vehicles," Hull adds.
Management consultancy Roland Berger estimates more than 160,000 small, remotely piloted passenger aircraft will be serving the world's cities by 2050. Market studies estimate the annual value of the UAM industry will hit many billions of dollars.
BAE is already working with several all-electric aircraft developers, including Jaunt Air Mobility and Wright Electric. However, the UK-headquartered manufacturer declines to say how much money it is investing in the technology.
"We have a few prototypes," says Hull. "We expect to be testing those later this year and early next year."
Developing new and scalable flight- and energy-control systems is no easy task considering the specifications of the air vehicles involved.
Urban air taxis are being designed to carry only several passengers and to zip across city skies on trips of limited range and duration. Many of the designs are envisioned to be part of a broad system, with aircraft linked via and coordinated by complex software and physical infrastructure.
Companies in the game are developing aircraft with vastly varying designs. Some are hybrid-electric, others all-electric. Some have tiltrotors and others have fixed wings. Jaunt's in-development air taxi, for example, is a "gyrodyne", having a main helicopter-like main rotor, plus fixed wings mated to four smaller propellers. But what links them all is their small size and weight – presenting specific hurdles for designers.
"It's challenging to shrink things down and make them scales to the types of vehicles we are talking about," says Hull. "You have to have an aggressive size and weight target, and at a low cost, because these vehicles are low-cost vehicles."
INTEGRATION IS KEY
The new technology will be particularly unique due to the degree to which control and energy systems must be integrated, BAE executives say.
Traditional fixed-wing aircraft use flaps and slats and other control surfaces to manoeuvre in flight. But many eVTOL designs are inherently different, relying instead on the relative speed of multiple rotors for control. "It has to do with how much lift those rotors are producing," says Hull.
That means fly-by-wire flight control system must be closely meshed with the electric systems powering the rotors. They must also be proven exceedingly safe.
"What you are really doing [is] integrating the propulsion system with the flight controls," Hull adds. It adds up to "one smart system that is going to bring all that together".
BAE has years of experience in flight controls and energy-management systems. Since the 1970s, military aircraft have used its fly-by-wire flight-control systems, with that competence also finding its way into the commercial sphere, including on the Boeing 777 and 777X.
BAE does not make battery cells themselves, but it does develop energy storage and management systems. Those include components like battery "modules" – the assemblies that contain the cells – and related cooling systems, energy management control electronics and various components like cables, fuses and contactors.
BAE's electric and propulsion systems already power more than 12,000 marine vessels and transit buses, it says.
Other major aerospace suppliers have also have jumped into the electric-aircraft ring.
Honeywell Aerospace said this year it was forming a new business unit to supply UAM manufacturers with avionics, propulsion systems, technology, certification and other services.
Last year Collins Aerospace formed "The Grid", a technology laboratory to develop electric systems for future aircraft. Safran too is developing electric propulsion and related power systems.
WHOLE NEW ECOSYSTEM
BAE's Drechsler says the UAM sector is unique in that it encompasses a non-traditional aerospace ecosystem.
The world's aerospace suppliers have traditionally sold components to a few major airframers. Some suppliers rely almost exclusively on sales to a single OEM such as Boeing and Airbus.
But the UAM market is flush with a varied mix developers and suppliers. While some are traditional aerospace primes like Airbus, Bell, Boeing and Embraer, there are countless start-ups too: in 2019, the Vertical Flight Society estimated developers had proposed more than 150 eVTOL designs.
"Most aerospace suppliers [work with] a handful of OEMs," says Drechsler. "There are hundreds of OEMs trying to get into this [UAM] market space."
Drechsler expects the vast pool of UAM developers will dwindle "to a handful of key OEMs that have the experience" needed to develop, certificate and bring to market a new class of aircraft.
He says BAE is taking a measured approach – being "deliberate and considered" by partnering with companies it sees as having viable designs.
BAE's partnership with US-based Jaunt calls for development of "electric-energy management systems" for the latter's gyrodyne, which it describes as a "reduced rotor operating speed aircraft".
Jaunt's design will have fly-by-wire flight controls, cruise at about 150kt (278km/h) and carry one pilot and four passengers; US certification is targeted for 2025.
BAE is also involved, again with flight-control and energy-management systems, with US-based Wright Electric. That company is developing a 186-seat electric airliner called Wright 1 that it hopes will enter service in 2030. UK budget carrier EasyJet is also a partner on the Wright programme.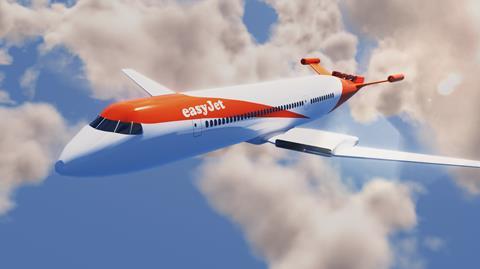 Another hurdle: a new supply chain must mature around the UAM movement, BAE says. That is no easy task, especially considering the troubled state of the aerospace industry.
Even before the pandemic, aerospace suppliers were struggling to meet production demands from airframers like Boeing and Airbus, which had aggressively ramped up narrowbody jet production. The downturn has since forced suppliers into rapid contraction.
But despite the aerospace downturn, Drechsler says aircraft developers continue progressing along their planned timelines.
AUTOMAKERS ENTER THE RING
The new ecosystems also includes companies that have not historically had a hand in aerospace, such as electronics developers and automakers.
"We are reliant on the consumer electronics industry for a lot of the parts that we use," says Hull.
In January, South Korea's Hyundai Motor Company entered the eVTOL race by partnering with Uber to build the all-electric S-A1, a four-passenger craft intended to have a 157kt cruising speed, cruising altitude of 1,000-2,000ft and a 54nm (100km) range.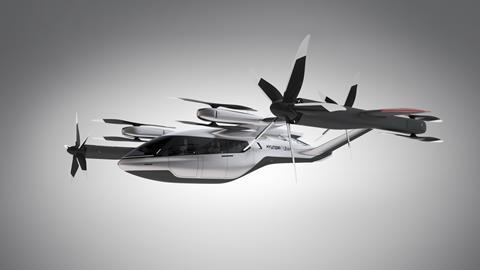 Hyundai cited its experience bringing electric automobiles to market as valuable to eVTOL development.
Also in January, Japan's Toyota Motor Corporation said it invested $394 million in start-up Joby Aviation. The car maker's development and manufacturing expertise will aid the development of its partners five-seat all-electric eVTOL aircraft.
But non-aerospace companies can lack experience with particularly complex and specific certification requirements that apply to things that fly, Drechsler says.
"Requirements for aerospace [are] different," he says. "As you start to integrate and meld the supply chain from aerospace and ground-based vehicles, there [are] going to be challenges."