US aircraft lessor BBAM Limited Partnership has ordered another 12 Boeing 737-800 converted freighters, throwing further momentum behind the conversion programme at a time of heightened air cargo demand.
Including orders and commitments, BBAM now holds agreements to acquire 31 737-800 Boeing Converted Freighters (BCFs), pushing Boeing's total backlog of the type (including orders and commitments) to more than 200, Boeing says on 14 July.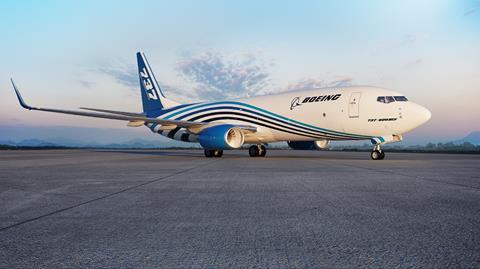 With the agreement, San Francisco-based BBAM will be the first customer to have a 737-800BCF converted at Costa Rican MRO shop Cooperativa Autogestionaria de Servicios Aeroindustriales (Coopesa).
In May, Boeing said Coopesa would be the newest of its 737 conversions shops, adding to three Chinese sites: GAMECO in Guangzhou, Boeing Shanghai Aviation Services, and Taikoo (Shandong) Aircraft Engineering Company (STAECO) in Jinan.
The Coopesa operation will have two 737-800BCF conversion lines.
BBAM chief executive Steve Zissis says the conversion programme "is extending the life and enhancing the value of the 737-800s in our fleet." That fleet includes 127 737-800s, according to BBAM's website.
"We are growing our Boeing order book to meet the strong demand we see worldwide for narrowbody freighters," Zissis says.
Last week, IATA reported another strong month for the air cargo segment, with airlines globally carrying 9.4% more cargo volume in May than in the same month of pre-pandemic 2019.
BBAM's order builds on a deal disclosed in January. That agreement included orders by BBAM for six 737-800BCFs, and six options.
Boeing launched the 737-800BCF programme in 2016 and delivered the first aircraft in 2018. The jet has 2,025nm (3,750km) range, 20,600kg (45,400lb) of maximum payload and capacity to carry 12 cargo containers, according to Boeing.