Boeing has warned that over a third of its firm order backlog for the 777X – a total of 118 aircraft – is at risk due to the financial condition of its customers and delays to the development of the new widebody twinjet.
In its annual report for the year ended 31 December, filed on 1 February, the US airframer states that firm orders for the 777X total 191 aircraft, down from 309 jets at the end of 2019.
That reduction has been driven by an accounting regulation known as ASC 606. Boeing classifies separately jets for which it holds firm orders, but believes there is a lower likelihood of the contract completing due to the financial condition of a customer, or other issues.
Boeing's orders and deliveries data indicates that a combined 135 aircraft – comprising 118 777Xs and 17 777s – are covered by ASC 606 adjustments.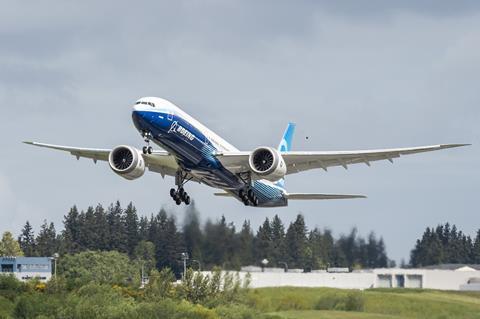 On their own, the potential 777X cancellations represent over 30% of the 777's current backlog, but that rises to 38% for the new variant.
"The decrease in contractual backlog during 2020 was primarily due to a reduction for orders that in our assessment no longer meet the accounting requirements of [ASC 606] for inclusion in backlog primarily due to [the] 737 Max and 777X, deliveries in excess of new orders, aircraft order cancellations and changes in projected price escalation," according to the airframer's financial filing.
It warns that further delays to the 777X may result in "additional reductions to backlog and/or significant order cancellations."
Boeing recently pushed back first delivery of the GE Aviation GE9X-powered 777X to late 2023, citing weak demand and issues around certification.
ASC 606 adjustments have particularly hammered the 737 Max programme over the last 12 months, with Boeing currently recording 749 orders for the single-aisle that it believes are unlikely to be completed.
But owing to the narrowbody's protracted grounding, customers have also been able to walk away from orders: the airframer saw 641 cancellations for the Max during 2020.