Electric air taxi rivals Archer Aviation and Boeing-backed Wisk Aero have settled their long-running lawsuit, with Boeing investing in Archer and the two start-ups agreeing to collaborate on developing autonomous technology for the advanced air mobility (AAM) sector.
"As part of this new collaboration, Archer, Boeing and Wisk have agreed to settle the litigation between the parties and collectively look to the future," Adam Goldstein, Archer's chief executive, said during the company's quarterly earnings call on 10 August. He adds that the companies will now "look forward to the growth and development of the AAM industry".
The announcement comes amid a flurry of news from Archer. The company also said on 10 August it was receiving a $215 million equity investment from Boeing, Stellantis and United Airlines, among others. In addition, it received Federal Aviation Administration approval to begin flying its Midnight electric vertical take-off and landing aircraft.
"Boeing was actually one of the first to fly a fixed wing VTOL aircraft – the V-22 Osprey – over 30 years ago, and today I'm excited to call them one of our investors," Goldstein says.
"Our collaboration with Boeing and its subsidiary Wisk will be focused on supporting the integration of autonomous technology on future variants of our aircraft," he continues. "This collaboration could bring for Archer the potential to access world-leading economy technology, while substantially reducing the cost of developing it ourselves."
The lawsuit's resolution also clears the deck for Archer to forge ahead with flight testing, as it hopes to gain Federal Aviation Administration certification for Midnight by the end of 2024.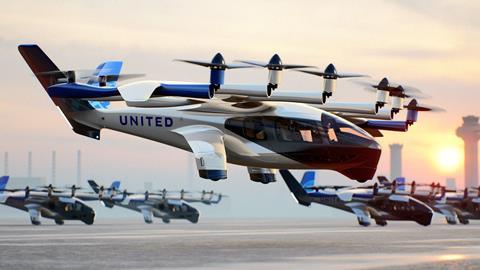 "This collaboration puts Archer in a unique position – to be able to source autonomy technology from a leader in the industry," Archer says. "Over the long term, autonomy is seen as one of the keys to achieving scale across all AAM applications, from passenger to cargo and beyond."
Wisk adds, "The parties have entered into a collaboration that looks forward to the growth and development of the AAM industry. Archer has agreed to make Wisk its exclusive provider of autonomy technology for future variants of Archer's aircraft. As part of the parties' collaboration, Boeing is making an investment in Archer that will support the integration of Wisk's autonomous technology in future variants of Archer's aircraft."
US airframer Boeing says it is "pleased to have reached a mutually agreeable settlement".
"We're focused on supporting Wisk and are excited by their continued progress toward certifying and bringing to market the first all-electric, self-flying air taxi in the US," the company says. "We're also pleased our investment in Archer will support the potential integration of Wisk's autonomous technology in future variants of Archer's aircraft, pursuant to Wisk's exclusive right to be their autonomy provider."
Archer was seeking $1 billion in damages from Wisk in an acrimonious legal fight about stolen trade secrets that dates back to 2021.
Archer had claimed Wisk "deployed a knowingly false extra-judicial smear campaign that projected stand-alone defamatory statements about Archer to the world". The company said that Wisk's public statements caused "substantial damage", including making it more difficult for the Palo Alto, California-based eVTOL aircraft company to access capital, and hurting business relationships.
The two Silicon Valley firms were locked in a high-stakes legal battle since April 2021, when Boeing-backed Wisk sued Archer, alleging patent infringement and trade secret theft. Wisk claimed outgoing employees – bound for Archer – stole design documents which they turned over to Archer.
Wisk is also developing a fully autonomous eVTOL that it plans to enter service this decade.