Boeing has released a video about the fuselage-related quality issues that led the company to halt deliveries of 787s.
The Chicago-based airframer released the video on 23 July alongside an email from Boeing Commercial Airplanes chief executive Stan Deal to all Boeing's commercial aircraft employees.
The letter addresses Boeing's efforts to bring "production stability" to all its commercial aircraft programmes.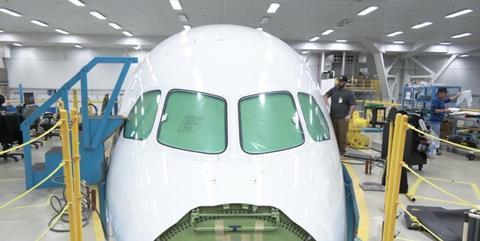 Neither the video nor letter provide much new information, but they do include context related to Boeing's inspections and rework of undelivered 787s.
Boeing stopped delivering the jets in May because gaps between fuselage sections did not meet specifications. The airframer had previously halted 787 deliveries between October 2020 and March 2021 to address seemingly related issues. About two weeks ago, Boeing disclosed it also identified issues with gaps between joins in 787 forward pressure bulkheads.
Deliveries remain paused.
"If you start at the tail of the airplane, just walking to the front, each of those sections, when we bring them together, is within five-thousandths of an inch," Boeing Commercial Airplanes vice-president and general manager of airplane programmes Mark Jenks says in the video.
"You hear people talk of gaps – its really not what you would normally think of as a gap," Jenks adds. "This is a very, very small space. Just to give you a feel, that's the thickness of a single coat of paint."
Boeing has said the issues do not affect 787 flight safety. Therefore, it is first evaluating and addressing the problem with undelivered jets.
"What we are talking about here is really making sure that every element of the design complies with the strict specifications… It's not an issue of safety," says Jenks.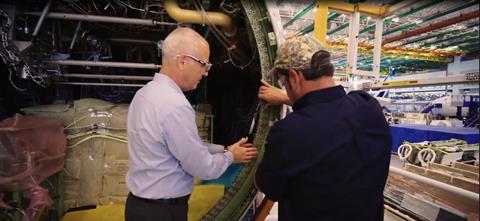 "The fleet is safe with current conditions," 787 vice-president and general manager Lane Ballard says in the video.
The process of inspecting gaps between "fuselage joins" involves "removing a set of fasteners", then performing "gap checking with feeler gauges", adds Boeing join verification lead Christian Vilchez.
"The process… isn't really technically challenging, but it does take quite a bit of effort," says Boeing midbody lower join lead Sean Evans.
Boeing has not said when it might resume 787 deliveries, noting that the Federal Aviation Administration's oversight will guide the process. Boeing's latest delivery halt came immediately after the FAA declined to approve a Boeing-supplied algorithm intended to help the company with inspections.
On 13 July, Boeing disclosed existence of a separate "manufacturing quality issue" involving gaps that fail to meet specifications in the forward pressure bulkheads of undelivered 787s. Spacing between those joins does not meet tolerances, which are measured in thousands of an inch, Boeing said of the pressure bulkhead issue.
Also on 13 July, Boeing disclosed it was reducing its 787 production rate – which had been at five jets monthly. The company has not specified the new rate. Boeing has said it has about 100 undelivered 787s in its inventory.
"As Boeing has previously shared, the company has been engaged in detailed discussions with the FAA on verification methodology for 787 fuselages, and conducting associated inspections and rework," Boeing said on 13 July. "In connection with these efforts, the company has identified additional rework that will be required on undelivered 787s."
Deal's 23 July email to staff broadly reviews what he calls Boeing's "concerted effort to build production stability into all commercial programmes".
"It includes identifying clear definition of work processes, applying concepts of kitting and visual controls, and structuring work into standard packages that can be completed in a targeted time increment," Deal's memo says.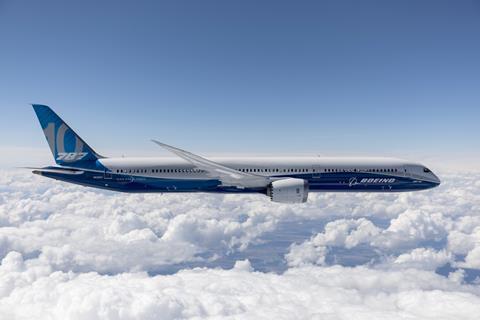 Deal calls the 737 programme Boeing's "most mature".
"Identifying and resolving defects at the point of origin enabled us to track some subtle quality issues from a supplier that were only apparent after final paint had been applied," Deal says of the 737 programme. "By pushing resolution of issues like this back to the point of origin, the team has improved quality and created a 20% reduction in flow days at the delivery centre, and is now driving toward a 50% reduction."
"While this result is unique to the 737 programme, the tactic is being deployed across the programmes," Deal adds.
The company is also "making quality enhancements at various suppliers".
"We proactively keep the FAA fully aware of our efforts. Our regulator plays a key role in approving changes to the production system – either to address shortcomings or to improve efficiencies," Deal says. "Through this process, we identified the 787 gap management issues that have led to a hold on deliveries."