Boeing chief executive David Calhoun insists government aid to the struggling airline and aerospace sectors should not be contingent upon the government taking equity in US companies.
"Nobody has an interest in retaining government equity in their company. We want to pay everything back," Calhoun tells Fox Business on 24 March.
He also insists Boeing remains fundamentally sound despite the severity of the coronavirus downturn.
"I have no less optimism for our commercial business than I did before this started," he says.
His comments come as Boeing seeks $60 billion in federal US aid to help itself, its 17,000 suppliers and the broader aerospace industry weather the coronavirus downturn.
Meanwhile, Boeing's US airline customers have urged Congress to provide them with some $58 billion in financial support.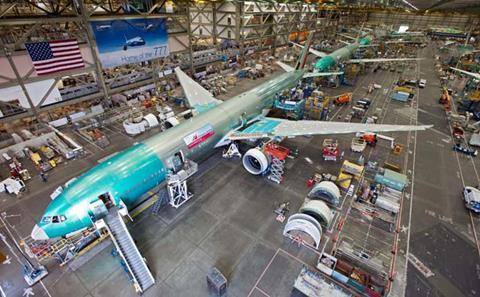 Congress has been wrangling over the package in recent days, with sticking points including worker protections, the degree to which aid will be in the form of grants or loans, and whether the government will take equity in, or set other conditions upon, companies that receive aid.
On Fox Business, Calhoun denies that requests by Boeing and other companies for government funds amount to corporate welfare.
"It's anything but corporate welfare," Calhoun says. "Government is supposed to step up, to get us from one end to the other. Whatever tool they put in place should be simple, straightforward and immediately accessible."
Calhoun notes Boeing holds $15 billion in cash. He says the company "will get through this" and that the "enterprise is not threatened".
"But the credit markets are closed to us," Calhoun adds.
Boeing on 23 March announced it will suspend production in Washington state for two weeks due to a coronavirus outbreak at its facilities.
Aerospace manufacturing suppliers have likewise been reeling, reporting fast-moving developments and broad business uncertainly.
On 23 March, General Electric said GE Aviation, which makes commercial aircraft turbofans, is laying off 10% of US workers and furloughing half its maintenance, repair and overhaul staff for 90 days.
GE did not immediately say if Boeing's production halt will spur additional staff or production actions.
Supplier Triumph Group on 24 March said it will lay off 250 salaried staff and 250 contractors, and Spirit AeroSystems is halting much of its Boeing-related work.
Another supplier, Collins Aerospace, says some of its sites "have been closed in areas that have been hardest hit by the virus, and some have been closed temporarily for cleaning".
"The majority of our sites are still up and running," Collins says.
Another engine maker, Pratt & Whitney, says all its facilities are up and running.
On Fox Business, Calhoun insists Boeing will survive even without government aid.
He says the company might need more "haircuts" without federal support, while stressing Boeing must do all possible to limit staff reductions so as to ensure it has resources needed to resume operations when the coronavirus crisis abates.
"I have to keep my workforce in place and we have got to be ready when recovery comes," he says.
The CEO also insisted the 737 Max remains on track for mid-2020 certification. "We remain on schedule… Everything so far looks good for the certification of the Max at the mid-point of the year."