Bombardier has started flight testing a second, larger unmanned demonstrator of a conceptual blended-wing-body aircraft, expanding an effort the company says could inform the design of a radically different large-cabin business jet in future.
Earlier this year, the Montreal-based manufacturer revealed the "EcoJet demonstrator" programme, and said it was flight testing the design using a model aircraft.
Bombardier says initial findings from the flight trials have prompted it to continue the programme using a larger unmanned demonstrator.
Bombardier
"We've flown a much-larger model, in the 20-foot-span size," Bombardier director of research and technology Benoit Breault told FlightGlobal at the International Aerospace Innovation Forum in Montreal on 6 September.
The latest model is about 20% the size of a large-cabin business jet, he adds. The earlier demonstrator is around 1.2-1.5m (4-5ft)-long.
Bombardier believes the radical new shape could enable a significant reduction in emissions and fuel burn. "With only changing the shape of the aircraft today, we believe we can reduce [emissions] by 17 to 20%," says chief executive Eric Martel.
Bombardier stresses EcoJet is not a development programme but an effort to understand the design.
"There is no rush at Bombardier right now," say Martel. "Eventually, we have to develop the next aircraft… I have people working on it today."
Breault says the cabin of a blended-wing-body aircraft would be too low for a smaller jet like a midsize Challenger but perfect for the large-cabin sector, in which Bombardier now competes with its Global series.
Blended-wing-body aircraft are hybrids, sharing features of traditional designs and of ultra-efficient "flying wings", says NASA, which has studied the concept.
While traditional aircraft have wings mounted above or below a cylindrical fuselage, Bombardier's EcoJet has a wide non-cylindrical fuselage that curves smoothly to wings extending from the fuselage itself. "The wing line sits much higher than what you… see on normal aircraft today," Breault says.
Instead of a T-tail, EcoJet has a U-tail with two horizontal and two vertical stabilisers. It has two engines mounted on the top of the aft fuselage.
The shape means the fuselage generates 20-30% of total lift – versus 5-10% for a traditional aircraft, says Breault. That means the wings can be smaller, reducing weight and drag, and therefore requiring less thrust and fuel, he adds. That is how Bombardier arrives at an estimated 20% fuel savings. It says the design could use traditional turbofan engines or novel propulsion systems.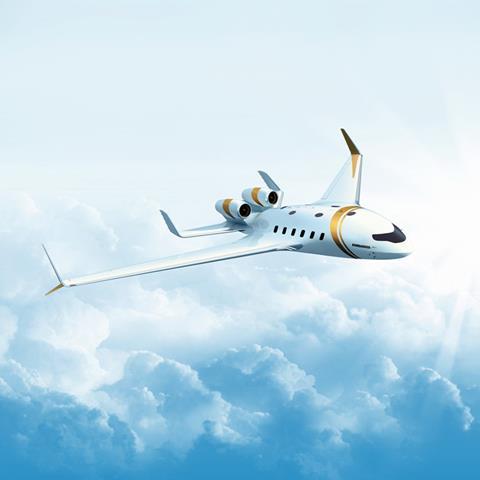 Many hurdles remain, but the airframer says it has solutions to technical and certification challenges. "We've found nothing that kills the concept," says Breault.
The EcoJet project comes as aircraft manufacturers face immense pressure to cut carbon emissions, a tall challenge considering the energy requirements of business jets.
Breault says Bombardier completed its original flight-test goals for the smaller model but will continue using that aircraft to evaluate technologies before moving them to the larger demonstrator. However, the company declines to say where it is conducting test flights, nor to provide funding or timeline details, saying progression depends on test results. It has partnered on the programme with unnamed Canadian universities.
The blended-wing-body concept was developed decades ago and was the subject of numerous studies. It has gained attention in recent years after Airbus said it was studying the concept.
Breault says technical challenges have kept the design from the mainstream. He cites flight control complexity and says the U-tail and wing location require "completely different control laws".
"The common knowledge of such an aerodynamic shape, in the world of flight sciences, has not been explored a lot," he says. "The stall [speed] of this vehicle is going to be unknown territory for Bombardier."
Additionally, non-cylindrical fuselages are more difficult to pressurise, tending to require more structural reinforcement, adding weight.
There are manufacturing hurdles. Unlike cylindrical fuselages, which can be lengthened or shortened by removing sections, blended-wing-body designs are harder to stretch or shrink due to their non-linear fuselages, Breault says.
That creates challenges because aircraft manufacturers invariably create aircraft families around baseline variants, enabling them to squeeze maximum value from massive investment.
But Breault says Bombardier has found a "solution" to that issue, without elaborating.
"We think we've got some fancy ways to make the economics work," he says. "I allow myself to believe… I'm going to put one in service before I retire."