Cirrus Aircraft has updated its single-engined SR-series light aircraft, rolling out new cabin options and aerodynamic changes that improve efficiency and boost speed.
The new "2022 G6 SR" is 9kt (17km/h) faster than earlier SR models thanks to "sleeker wing and tail surfaces and redesigned wheel pants", Minnesota-based Cirrus says on 11 January.
"The new model's ice-panel transition seams are smoothed and wheel-pant tolerances tightened to reduce drag," it adds. "These aerodynamic refinements contribute to both reduced fuel consumption and faster flight segments."
Cirrus launched the "G6" – or sixth-generation – series of the five-seat SR-series in 2017. The 2022 updates apply to the three Cirrus SR models: the SR20, SR22 and SR22T, Cirrus says.
Though the company says the 2022 models are faster, Cirrus did not update speed figures in the types' pilot operating manuals or in marketing materials. The figures remain unchanged from the previous SR models, it says.
"In practice, our owners will find that the actual [indicated airspeed] will exceed book value," Cirrus says. "The biggest increase in speed will be seen in the SR22T at [25,000ft altitude]."
The SR22T is the lineup's flagship. With a 315hp (235kW) turbocharged Continental TSIO-550 engine, SR22Ts achieve up to 213kt cruise speed and 1,021nm (1,891km) of range, according to Cirrus' website.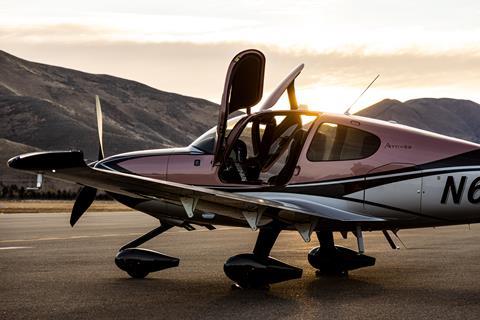 SR22s have 310hp Continental IO-550s, 1,169nm of range and 183kt maximum cruise, while baseline SR20s have 215hp Lycoming IO-390s, 709nm of range and 155kt cruise.
Cirrus also gave the 2022 models a "new remote unlock capability and keyless entry", and a "multi-function USB panel" for charging electronic devices, it says. Additionally, Cirrus updated the SR's "Cirrus IQ" mobile app and is offering the types with new exterior colours and new cabin leather options.