Embraer could continue building its E175 into the 2030s as continued airline demand and a lack of scope-clause relief in the USA combine to extend the regional jet's expected production life.
Despite the lack of new-generation engines, the oldest and smallest E-Jet still in production is maintaining its commercial momentum: at the end of the third-quarter the Brazilian airframer held firm orders for 101 examples, the vast majority from US carriers.
While production of the E190 and E195 has now switched to their re-engined and stretched E2 variants, the E175-E2 remains indefinitely paused, leaving the E175 as Embraer's only product with which to address the 70-seat segment.
"Basically it is the only aircraft in the market," says Arjan Meijer, chief executive of Embraer Commercial Aviation.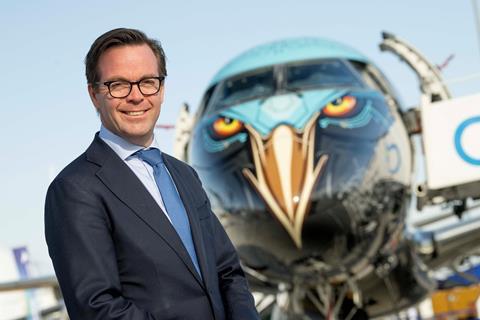 Production will "continue for quite a while yet", he says. While this will not continue indefinitely, "we see a very good period ahead of us", extending its life "at least until the end of the decade".
"I don't see any date yet when we would stop producing the E175," adds Rodrigo Silva e Souza, vice-president of sales and marketing at Embraer Commercial Aviation.
Although the Pratt & Whitney PW1700G-powered E175-E2 was always intended to be the final member of the E2 family to arrive, its suitability for the US market hinged on changes to agreements between mainline carriers and their pilots which limit the number and size of regional jets that can be flown by regional affiliates.
At 44,600kg (98,120lb) maximum take-off weight, the E175-E2 exceeds the current scope clause limit by 5,600kg. And with no changes to those restrictions in sight, Embraer has repeatedly postponed the jet's arrival.
"Ideally we would only be producing E2s by now, but the same scope clause that prevents that from happening also prevents anyone else from competing in the market," says Silva.
At one stage Mitsubishi Aircraft had seemed to be a potential competitor with its SpaceJet family, but delays and spiralling development costs – alongside its own scope clause complications – put paid to the Japanese airframer's challenge.
Long-standing rival Bombardier has also exited the regional jet space, selling its CRJ programme in 2020 to Mitsubishi Heavy Industries under whose ownership production ended.
But if the E175 continues to sell strongly in the USA, the same cannot be said for its two larger PW1900G-powerd E2 siblings where, excluding lessors, neither has registered a sale. The closest it has come is a 50-strong order for E195-E2s from Canada's Porter Airlines, which regularly operates the twinjet on cross-border services.
But Meijer is optimistic the pair can gain traction with US operators, despite strong competition from the Airbus A220.
"I think the timing needs to be right for operators. From an Embraer perspective we've gone through the Boeing deal uncertainties in 2019 and then we went seamlessly into Covid – but we are now restarting discussions. We keep up a dialogue with the [US] majors."
He argues that the relatively young E2s – service entry for the E190 came in 2018 followed by the E195 the next year – have not previously had enough in-service history to convince operators "but now we are in a totally different position".
Souza points to a number of Airbus narrowbody operators – including Royal Jordanian and Scoot – who have also selected E2s to complement their A320 fleets. "There's a change going on in their mindset," he says.
Additionally, Embraer is hopeful that it can validate operator feedback that both the in-production E2 models are significantly more fuel efficient than advertised.
At service entry, the airframer said the E190-E2 was 17.3% better on fuel burn than its predecessor, while the E195-E2 boasted a 25.4% improvement. However, real-world experience suggests those figures are actually closer to 20% and 28%, respectively.
"We know it's more than they expected but we need to measure and that takes time on our side," says Meijer.
In the meantime, Embraer has seen only a very limited impact from the problems affecting the P&W geared turbofans that equip the E2s. While conceding the engines "have not been completely without challenges" it is "a completely different situation to other platforms", says Meijer.
Embraer has an E195-E2 on display at Dubai in its latest special 'Tech Eagle' livery and Meijer is confident that existing E2 operators in the region, SalamAir and Royal Jordanian, will offer a springboard for future sales.
"With these two customers we will showcase the E2 in the region. To improve connectivity in the Middle East and Africa the E2 is the best fit to make that happen."