A hybrid-electric aircraft capable of taking off and landing within a 90m (300ft) space could broadly impact the business aviation market – at least according to Marc Ausman, chief product officer of Virginia-based start-up Electra.
Ausman told FlightGlobal during the NBAA show on 17 October that he believes the company's conceptual "blown-lift" aircraft will eventually take off with corporate customers.
"We've seen demand from Part 135 charter operators flying nine-passenger aircraft, plus or minus – everything from Caravans, Beavers, Otters, Islanders, even King Airs and PC-12s – who are looking for something more modern, more sustainable and quieter," he says.
"We're also now seeing more demand from corporate flight departments, which typically need smaller aircraft to move people around within a region."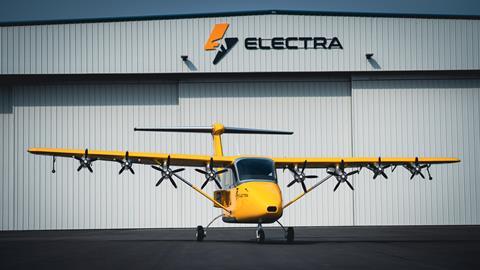 Designed to achieve lift at relatively low speeds, the hybrid-electric short take-off and landing (eSTOL) aircraft will feature eight electric motors mounted on its wings.
It will have a payload of 1,133kg (2,500lb) and be capable of carrying two pilots and nine passengers on routes of more than 400nm (741km), plus reserves.
The start-up envisions airport-to-airport operations in addition to flights directly to campuses, factories, farms and other work sites.
"This aircraft can land on a runway… the size of a soccer field or a football field," Ausman says. "We'll get into these new areas – it could be a dirt road, a gravel parking lot, a paved strip, or it could be new infrastructure."
For example, Ausman imagines a future in which Electra's aircraft flies directly into industrial or corporate facilities. "Whether that's a factory or warehouse, or a corporate office with some extra space for take-off and landing, that's a new value proposition," he says. "Helicopters are just too expensive to do that, and a larger aircraft like a jet needs a longer runway."
Ausman says Electra has secured 1,600 tentative aircraft orders through letters of intent, representing a total value exceeding $6 billion.
"We see that as a huge vote of confidence that there's huge demand for this kind of sweet spot of regional aircraft for both passenger and cargo users," he says.
During the Paris air show in June, Electra unveiled its two-seat technology demonstrator, the Model EL-2 Goldfinch. It also disclosed a deal with Safran Helicopter Engines to develop a 600kW (805hp) hybrid propulsion system.
"For the production aircraft, all the components will be sourced from vendors," Ausman says. "We're down-selecting the batteries, motors and propellers from vendors who make those components. We did our own [engineering] for the technology demonstrator so we could really deeply understand the engineering issues around those individual components.
"Now, we're in a position to create a really detailed set of requirements for our suppliers," he adds.
Electra is in final preparations for launching a flight-test programme with Goldfinch, which will inform the engineering and aerodynamic design of Electra's production prototype.
The start-up is seeking certification from the Federal Aviation Administration in 2028, about eight years after the company's formation.
Ausman says the barrier for entry is high for aviation companies seeking to compete with Electra in the eSTOL space.
"It's a lot of work, and we've made significant advances," he says. "This aircraft will be the first hybrid-electric, distributed electric propulsion aircraft to fly in the world, and we're really excited about that."