Care for a luxury sports car with your business jet?
Embraer and Porsche think you do.
The Brazilian airframer and German carmaker on 5 November unveiled an ultra-exclusive package called "Duet", which pairs a Phenom 300E light jet with a matching Porsche 911 Turbo S.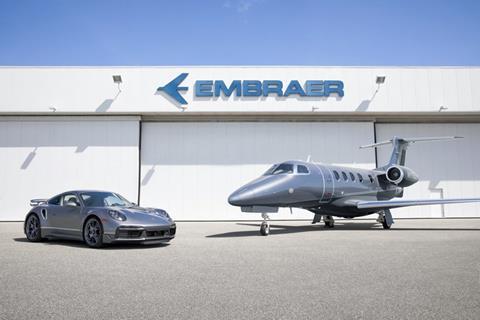 The move comes as Embraer and other airframers struggle amid the pandemic-driven aerospace downturn. Compared to commercial aviation, the business-jet sector has fared comparatively well.
Embraer and Porsche intend to begin delivering the limited-edition jet-car combos in mid-2021. Only ten of the pair will be produced.
The cost? A cool $11 million.
That includes the customised jet and car, plus several extras: a Swiss watch, luggage, flight jacket and further unspecified "Duet"-branded swag.
"What we have is a true marriage of what we think is the best in the industry," says Jay Beever, vice-president of design operations at Embraer. It is the first collaboration of its kind for the San Jose dos Campos-headquartered company, he adds.
The seven-passenger Phenom 300E – E for enhanced – was certificated in 2018 and is an iteration of the Phenom 300 series, which Embraer introduced in 2009 and remains one of the airframer's best sellers. The Duet Phenom will be built on-demand in Melbourne, Florida, and the company expects to sell all ten examples quickly. It hopes to deliver the ten jets by 2022.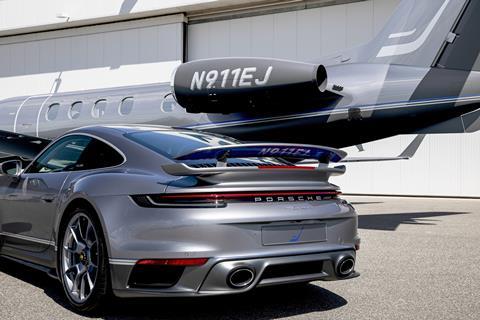 Purchased alone, the base price of the Phenom 300E is about $9.7 million, while the 911 costs about $220,000, Embraer says.
Beever describes the four-year internal collaboration with Porsche as similar to "an Argentine tango: a sexy, sassy fight-dance".
The companies have harmonised some of the jet's design elements with the 911, down to a logo that stylistically combines the Porsche's spoiler and the Phenom's winglet. That logo will be displayed throughout the Phenom cabin, on the aircraft's vertical stabiliser and on the 911's headrests.
The vehicles share other design details to create a "seamless experience from driving to flying", according to Embraer. These include shared exterior paint schemes and matching interior colours. The 911's seat and steering wheel will share design qualities with the Phenom's yoke and cockpit seats.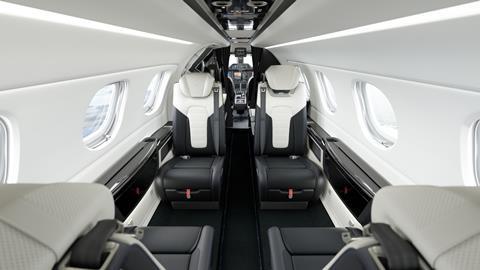 Even the car's air intakes are rimmed in chrome, matching the leading edge of the Phenom's engine nacelles.
Embraer says it is targeting the "Duet" to self-made professionals who will probably pilot the jets themselves.
Beever calls the timing of the announcement "unfortunate", with the coronavirus pandemic raging. However, he adds, Embraer has seen more interest in private jet travel in recent months, as travellers seek to reduce their risk of catching Covid-19.