Embraer's chief executive sees his company's recent success selling regional jets to US carriers as signifying that a shortage of pilots is easing.
"It shows that the pilot shortage situation is improving in the US," the Brazilian aircraft manufacturer's CEO Francisco Gomes Neto says on 6 November. "Improvements we are seeing in the pilot situation – this will open the door for more sales of the E175 in the USA."
The comments came during Embraer's third-quarter earnings call and as news broke that FedEx is now encouraging its pilots to resign, saying slacking cargo demand has left it with too many pilots on payroll.
Executives at many US airlines – primarily smaller carriers – have in recent years said they have been unable to hire enough pilots to meet demand, leading some airlines to park jets and helping push others out of business. In April, FlightGlobal reported that some 500 regional jets in the USA were parked due to factors including too few pilots.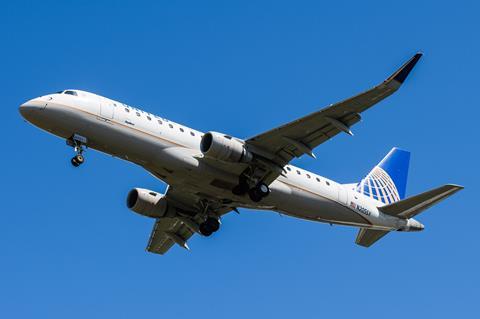 Many insiders have blamed the shortage on factors including downsizing during the Covid-19 pandemic and the USA's rule requiring most new pilots have 1,500h of flight time before working at large passenger airlines. Efforts have been underway on Capitol Hill to raise the mandatory airline pilot retirement age and to ease the 1,500h rule.
The Regional Airline Association (RAA), which has for years warned of too few pilots, says it sees no indication that the pilot shortage is easing. Major airlines are still hiring at a pace outstripping the issuance rate of new transport pilot licenses, the group says, adding that too few pilots have led airlines in the last decade to concentrate more flying in larger markets, leaving smaller cities with significantly fewer flights and seats. RAA and its members have said regional carriers are most impacted by the pilot shortage because they lose pilots to the larger airlines they feed.
Embraer has landed more orders from US carriers in recent months.
In October, SkyWest Airlines ordered 19 E175 regional jets for operation under United Airlines' brand, and American Airlines ordered four E175s, which it intends to deploy with subsidiary regional airline Envoy Air. American also ordered seven E175s in June.
Those deals are not massive by historical standards but mark an uptick in demand following several years during which orders were slow in coming.
A recent move by FedEx also points to an improved supply of pilots. The package delivery company has partnered with regional carrier PSA Airlines to persuade pilots to leave FedEx for jobs at PSA. Pilots with experience can receive $250,000 in bonuses when joining PSA, also an American subsidiary, PSA says.
Pilot unions have challenged the assertion that pilots are in short supply and vigorously opposed related regulatory changes. The Air Line Pilots Association, International (ALPA), for instance, has said airlines that lack enough pilots are themselves to blame due to staff cuts and insufficient pay. ALPA says the number of new pilots has outstripped hiring demand over the last decade.
Story updated on 7 November to include comments from the RAA in the sixth paragraph.