The US Federal Aviation Administration has proposed requiring airlines to replace fuel system processors on Boeing 737 Max jets, citing problems with fuel shut-off systems.
Boeing already addressed the concern in a 2020 service bulletin that described procedures for replacing a processor unit.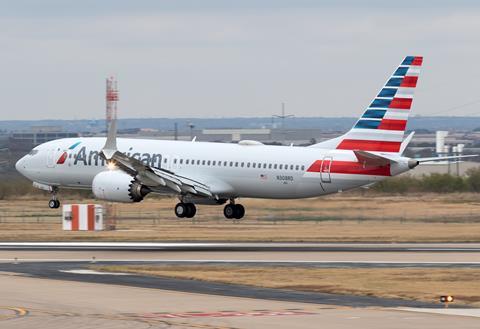 The issue involves a problem with the "automatic shut-off system" on 737 Max 8 and Max 9s, says the FAA in a proposed airworthiness directive (AD) issued on 2 April.
During refueling, that system is supposed to automatically close a valve when the tank is full. If the automatic shut-off feature fails, the system should generate a flashing warning on the jets' "refuel panel", notifying fuel operators of the failure, the FAA says.
The agency received reports that the system works improperly during refueling the Max's right-side tank. Specifically, the system does not flash the warning if the automatic shut-off valve fails to close.
The failure is caused by "the flashing threshold in the [fuel quantity processor unit] not being set at the correct fuel level", the proposed AD says.
The FAA's proposal would require airlines to replace the processor units, following steps detailed in a 2 June 2020 "Special Attention Requirements Bulletin", issued by Boeing.