The first Airbus A220 produced at the company's Mobile, Alabama assembly site completed its maiden flight on 2 June.
The aircraft, destined for Delta Air Lines, departed Mobile Aeroplex, performed "test sequences" and landed at 13:44 local time, Airbus confirms.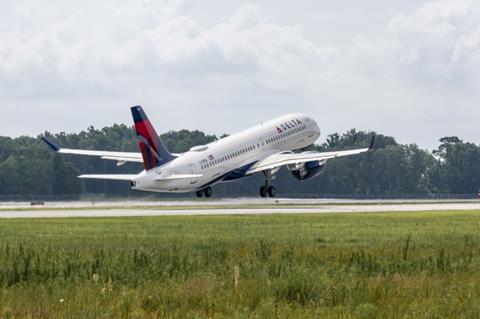 The flight marks a milestone for Airbus' Mobile facility, which began assembling A220s in 2019. The site also assembles A320-family aircraft.
Airbus purchased majority ownership of the A220 programme, formerly known as CSeries, in 2018 from Bombardier, and promptly went to work opening a second assembly site in Mobile. Airbus also produces A220s in Quebec, Canada.
The Mobile plan was initially viewed as a means by Airbus to avoid potential US tariffs on A220 imports, but the tariff threat evaporated in 2018, and Airbus still moved forward with A220 assemblies in Mobile.
Airbus also recently started producing the first A220 for JetBlue Airways at Mobile.
Delta holds unfilled orders for 64 A220s, including 14 A220-100s and 50 A220-300s, and has 31 A220-100s in service, Cirium fleets data shows.
JetBlue holds orders for 70 A220-300s.