The first flight of the 777-9 on 25 January has cleared an important programme milestone for Boeing. It now faces at least a year of flight testing involving four aircraft, to clear the way for deliveries to begin to launch customer Emirates.
While Seattle's latest big twin has secured a solid foundation of orders, Boeing will be keen to use the much-delayed launch of flight testing as a springboard to add more customer logos to the eight that adorn the first aircraft (WH001), as it battles in the large widebody sector with the Airbus A350-1000.
Boeing has bragging rights over Airbus in this sector on several levels. THe 777-9 is bigger than the A350-1000 and has more firm orders - 267 versus 176, according to Cirium fleets data. And its list price reflects the larger size - $442 million versus an estimated $374 million for the Airbus.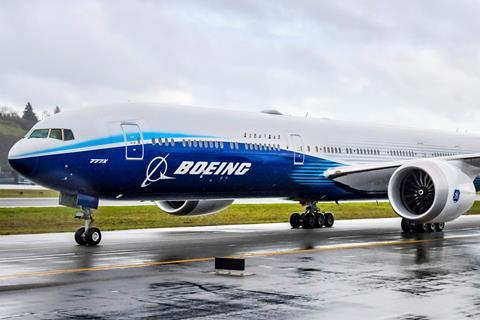 But the reality is that demand for both big twins has so far being disappointing – prompting seasoned industry observer and Teal Group analyst Richard Aboulafia to describe them as "the large twin-aisles that nobody seems to want".
Bert van Leeuwen, head of aviation research at financial services and banking institution Mitsubishi UFJ Financial Group, concurs: "The large twin-aisle market is pretty tough at the moment, probably because smaller twin-aisles offer more flexibility, cause maybe less yield erosion and no longer seem to have a significant disadvantage in terms of seat-mile cost," he says.
"It seems the downscaling trend is continuing now to the single-aisle market with the hugely popular A321-200NX [A321neo ACF/LR] and NY [A321XLR]. Eventually, there will be a need for very large aircraft like the 777-9X, but – as the 747-8I and A380 have proven - this market size is limited."
Today's benchmark in the big-twin sector is the 777-300ER, which has sold almost 840 aircraft since its introduction in 2004 – a sales story the Airbus and Boeing young pretenders aspire to replicate.
"The 777-300ER had the market almost to itself," points out Richard Evans, senior consultant at Ascend by Cirium, as Toulouse's four-engined alternative, the A340-600, could not compete with the Boeing twinjet on operating-cost terms.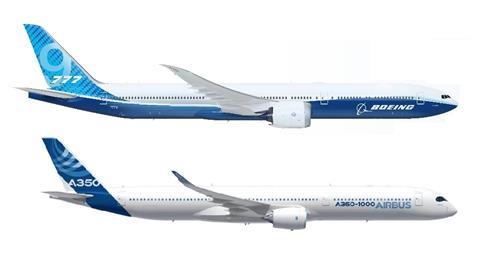 "Now, the A350-1000 provides a much tougher competitor, and some airlines may prefer the smaller type if it is comparable in terms of cost per seat with the 777-9, since it will have lower trip cost," he says.
Rob Morris, who is global head of consultancy at Ascend, points out that only seven of the 43 airlines operating the 827 777-300ERs in service today have so far ordered the 777-9. "Albeit, these seven customers operate 40% of the installed 777-300ER base today," he says. "However, not all of these have ordered as many 777-9s as they have 777-300ERs, so there is potentially some more repeat business here."
Morris believes that at face value there are further sales opportunities for Boeing.
"In that context our most recent Fleet Forecast, completed last summer, predicts delivery of just over 900 777-9s through 2038," he says.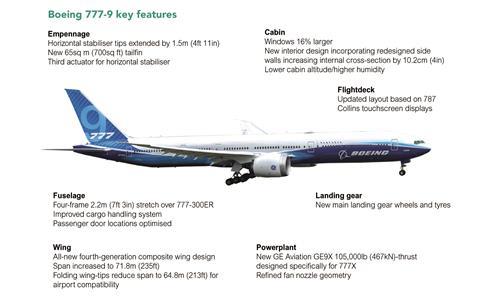 One point that is often debated – and disputed – is whether size will be the ultimate deciding factor in the battle between the two big twins. Evans says that this will only become clear when there is some "real-world" airline data to enable true cost-per-seat analysis to be completed: "If the 777-9 is comparable or only slightly better than the A350-1000, but with more seats, many airlines will prefer the smaller type."
Van Leeuwen says that the overall 777X orderbook, which stands at 309 aircraft from eight operators when including the ultra-long-range -8 variant, "is clearly not enough to call this a liquid aircraft from a financier or investor perspective".
He adds that with over two-thirds of the orders being held by the three Gulf carriers, this makes for a heavy concentration in a region that is seeing a slowing in growth and is where there are factors like political unrest or long-range "bypass" flights that could undermine the region's position as a hub. "An order reduction by the sometimes whimsical Middle East airlines would be very negative for the 777X's position," he says.
However, Ascend's Evans cautions reading too much into the 777-9's current sales situation: "The 777-9 is in its test flying phase at the moment, which is often a period of low order activity, with airlines waiting to see the aircraft in service before placing more commitments."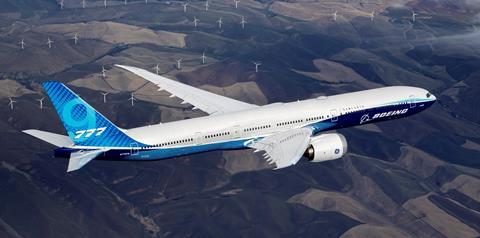 Boeing has provided little guidance so far on what immediately lies ahead for the 777-9 now it is in flight test, saying only that the programme will involve four aircraft and first deliveries are targeted for 2021. The manufacturer intends to seek approval for the aircraft as a derivative of the existing 777 type certificate but some observers believe this assumption will need to be validated in light of the 737 Max crisis. US Federal Aviation Administration chief Steve Dickson has confirmed that it is re-visting the requirements around the changed product rule in the wake of the 737 Max findings.
As a guide, recent flight-test campaigns for Airbus widebody derivatives, the A350-1000 and A330-900, required three aircraft/1,600 flight hours and two aircraft/1,100 flight hours, respectively.
Boeing has been using the downtime while the 777-9 was grounded awaiting the GE Aviation GE9X engine fix to undertake some trials which may allow it to expedite the test and certification programme, however.