Boeing's third 777X airframe has launched on its maiden flight, less than a week after the airframer said its first delivery of the type would be pushed back to 2022.
The aircraft, with the tail number N779XY, took off from Everett, near Seattle, shortly before 14:00 local time on 3 August, and landed 1h later at Moses Lake, Washington before returning to Boeing Field. The 777X, which is a larger and more efficient version of the 777 currently flying, will be built in two variants, the 777-8 and the 777-9.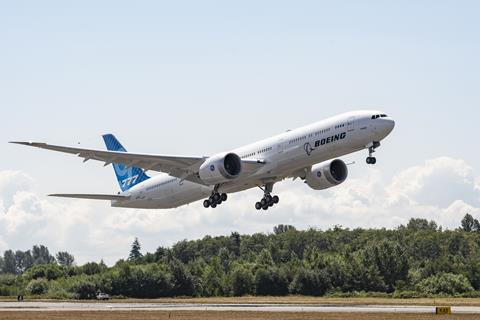 "We continue to execute our robust test programme for the 777-9, which began flight testing in January," the company said on 4 August. The airframer adds that it is "pleased with the progress" it is making with the test programme, without publishing any further details.
This airframe is slated to conduct tests related to the avionics system, auxiliary power unit, flight loads and propulsion performance, Boeing says. It is painted in Boeing's new "light livery", which the company adopted in 2018.
On 29 July, the airframer said that its first 777-9 delivery is now "targeted for 2022". Previously, Boeing had said it would begin deliveries of the first variant of the 777X family in 2021.
That change marks another significant delay for the 777-9, as it continues its flight-test programme amid what analysts call the worst aviation downturn in history. The 777X programme has already been delayed due to a design issue with the jet's GE Aviation GE9X powerplants.
The first flight of the first 777X airframe took place in late January, with the second following at the end of April. Boeing initially plans to flight test four examples of the 777X - all of the 777-9 variant.